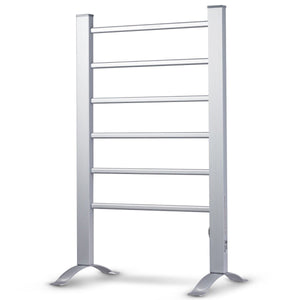 2-in-1 Freestanding Wall Mounted Electric Towel Warmer
Regular price
$72.90
$0.00
This mirror polished aluminum heated towel rack provides a stable heat output to warm your towels as well as your bathroom.
&nbsp
Turn this towel warmer into freestanding version, it will stand on the floor and you can put it wherever you want. If you want to make more space in the bathroom, turn it into wall-mounted version and it will fit perfectly in your bathroom. Imagine after taking a hot shower, you can embrace yourself with a soft and warm towel/robe, which can keep your body warm and make you feel comfortable every time.
&nbsp
This amazing towel warmer is the equipment you must have in every bathroom. Add it to your cart quickly!
&nbsp
Aluminum frame, brushed chrome-plated finish
Keeps your towels &amp robes dry, warm and comfy once you step out from shower and eliminates mold / mildew growth
2-in-1 design:&nbsp
Freestanding: Portable set up, great for bathroom/laundry room
Wall mounted: Designed to make the most of available room space
Built-in thermostat safely maintains the temperature and conserves energy
Dry silently with 6 bars for multiple towels &amp robes
On/off switch with save cover and light indicator to show you the warmer is on and heating up
Temperature reaches 122 &deg F optimum temperature within 30 minutes
Minimal assembly required
Material: Aluminum
Voltage: 110 V - 120 V, 60 Hz&nbsp
Power: 90 W&nbsp
Temperature reaches 122 &deg F - 131 &deg F
Product weight: 5 lbs
Dimension (freestanding): 35.5" x 22" x 13.5"
Dimension (wall-mounted): 33.5" x 22"
Items will be shipped out within 24 hours!
Orders arrives in 2-5 business days!
90-day return guarantee!
Notice:
Free shipping to whole US except Alaska, Guam, Hawaii, Puerto Rico and PO.box.
Addition 7.25% sales tax nedded for orders shipped to California.