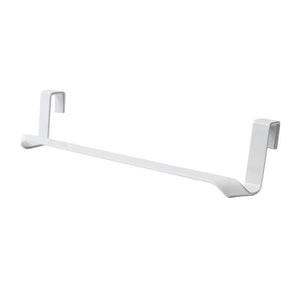 Bosign Towel Rack Hook - White Lacq Steel
Regular price
$25.90
$0.00
Can be used on : Drawers , Cupboard Doors in Kitchens, Bathrooms or Laundry Room
Has a protective film to avoid scratches on the door / drawer.
Fits cupboard doors/ drawer fronts with a depth of 0.8 inches.
Ugly drill holes can be avoided and you can easily move it whenever you want.
homefix Prime members save up to 10% on BOSIGN products -
Use the drawer or cupboard door in the kitchen, bathroom or laundry room.

The hanger in white lacquered steel can easily hang over the cupboard door or drawer. Ugly drill holes can be avoided and you can easily move it whenever you want. The breadth of the hanger is made for a single-fold kitchen towel. The towel hangs nice and smooth and air dries faster.

The white hanger blends nicely into the kitchen environment. Choose whether the hanger will hang visibly on the outside or be hidden on the inside of the door. It has a protective film to avoid scratches on the door/drawer.

Fits cupboard doors/drawer fronts with a depth of 0.8 inches.

Colour : White
Material : Lacquered Steel
Widths : 29,4 cm (11 9/16")
Depth : 6,2 cm (2 7/16")
Height : 7 cm (2 3/4")
Fits Cupboard Doors : 2 cm (3/4")