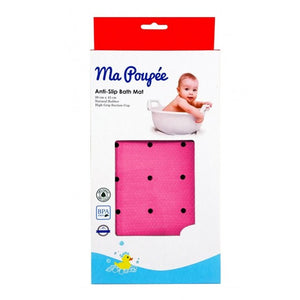 Ma Poupee Rubber Bath Mat Pink
Regular price
$9.90
$0.00
Ma Poupee Baby Bath Mat is a classically designed bath mat that uses suction cups to stick to the bottom of your tub. It features a soft and textured surface to deter slips. These practical bath mats come in bright colours to make your baby's bath time fun and enjoyable. Try our Ma Poupee Bath Mat today!
How to use:
Stick on a non-textured surface
Smooth down with your hands to create a secure suction
Gently place your baby onto the bath mat
Features:
Made of 100% natural, high quality rubber
BPA, PVC and Phthalates free, Non-toxic
Soft, reliable slip resistance for your tub
Durable skid-resistant suction cups keep mat firmly secured
Comes with non-slip surface and sure grip safety suction cups
Easy to carry
Recommended Care:
1. Wash before initial use with water and mild soap. Scrub with a soft brush. Rinse thoroughly.
2. Remove the bath mat after each use and allow it to air dry. Drape it over the side of your tub or on your towel rack. This will ensure that excess water is drained which reduces the chance of bacteria and mildew growth.
3. Do not use hot water, steriliser or dry directly under the sun to prevent rubber from hardening
With good maintenance, the Ma Poupee Baby Bath Mat will remain in fine condition for a long lasting use. Its that easy!