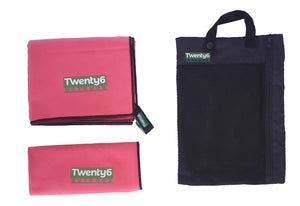 Microfiber Travel Double Towel Set - Quick Dry compact and Ultra Soft - Super Absorbent Antibacterial Lightweight - Great for Beach Bath Yoga Gym Pool Gulf & the Outdoors by Twenty6 Outdoor
Regular price
$14.99
$14.99
MICROFIBER DOUBLE TOWEL SET; Twenty6 Outdoor towels are made with the highest quality materials and made with the highest quality standard we also include a large washcloth face towel that's twice the size of our competitors so you get more towel for less, our XL towel is 30 x 60 and the face towel is 15 x 30
PREMIUM AND MULTIPURPOSE; Our super soft luxury microfiber towels provide a plush suede like feel on your body and face and at a price so affordable you can have full sets of bath towels they also work great as a lightweight travel towel beach towel yoga towel gym towel or even a travel blanket
ANTIBACTERIAL AND FAST DRYING; Our towels occupy 90% less space and are 40% lighter than traditional cotton towels and we accomplish all this without sacrificing quality or functionality, the built-in snap loops make no need for a towel rack so you can easily dry and care for your towel
ULTRA COMPACT AND LIGHTWEIGHT; The small footprint these towels take up makes them great additions to any survival kit or go bag we even included a snap loop on the double sided zipper carry case so you can hang it on the outside of your bag for drying on the go
BEST TOWEL YOU WILL EVER OWN; simply put we back our product so if you are not 100% satisfied return it for a full refund or we will send you another one free of charge
Heres why we love our towels, and why you should too! Super absorbent Dry
yourself off in no time; forget about feeling cold cause it takes too long to
get dry with unwieldy towels! Worried about having a damp towel in your bag?
Give it a good wringing, and a bit of air-drying time, and your towel should
be ready for another round! Premium through and through We only use
premium quality split-type microfiber? Not sure what that is? Dont worry;
that simply means that our towels deliver results as promised for years and
years. It feels great on the skin as well! Imagine the feel of a nice suede
jacket on your skin, every time you dry off! Its super handy! Going on a
trip and want to save space and weight in your luggage? Our towels are super
compact and light-weight meaning you dont have to worry being caught without
a towel! Its the best bang for your buck! We made sure that we priced our
towels very affordably WITHOUT sacrificing quality. We also included a smaller
towel and a handy carrying pouch! Who are we? We are a business owned and
operated by a US Veteran and our family. We may be a small business, but we
stand by each and every one of our products. We are proud to say that we are
based in the US! We are by heart, outdoor people, and we wanted to offer a
curated list of products that cover the aspects of outdoor life that a lot of
people dont consider. We love our products and we use them daily and we are
SURE that you would love them too.