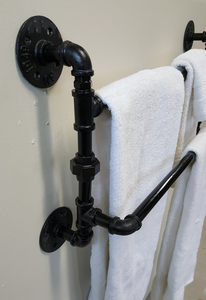 Wall-Mount Double Towel Bar 12" or 18" Width **FREE SHIPPING**
Regular price
$105.00
Sale price
$125.00
**SHIPPING IS INCLUDED IN THE PRODUCT PRICE**
This product will be discontinued once current inventory is depleted!
Update the look of your living space with a clean, modern, urban esthetic provided by this simple and bold, sturdy, attractive and functional wall-mounted double towel rack. It's the perfect accessory to display your fluffiest towels for yourself or your guests. Industrial steampunk design is incredibly versatile and makes a true loft statement or speaks perfect "farmhouse" or is right at home in your rustic villa or cabin re-dec -- regardless of whether you're in a city co-op, a cookie-cutter apartment or a suburban craftsman home!
Assembled in the USA, we use quality materials to assure a long life of productive service in your home. Ours are NOT do-it-yourself products that must be cleaned or assembled by you! They arrive ready to mount including premium mounting anchors and screws! 
Available in 12" and 18" rods as standard size lengths.
Product Info:
½" black "furniture grade" plumbing pipe
All pipe material has been degreased to remove any manufacturing oils or debris
All pipe material has been "de-burred" to assure no remaining slivers of metal which might hurt you or harm your belongings
Each mounting flange position passes strict quality control to assure screw holes are aligned properly so you don't have to struggle with screwdriver placement to mount the piece to the wall or other surface
Premium self-tapping anchors with color matched screws are provided or all-in-one screw anchors are provided – these will aggressively dig into both drywall and studs to assure the sturdiest mounting possible with the least noticeable mounting hardware.
Our furniture grade black pipe items are coated with a beautiful, smooth finish at the factory and are stunning as well as sleek!
Due to manufacturing differences, it is possible to have up to 3/8" variation in measurement of finished piece.
Tools required for installation:  Phillips head screwdriver, level
Measurements (size refers to the measurement of the hanging bar):
12" - 16"W x 15"H x 6"D
18" - 22"W x 15"H  x 6"D