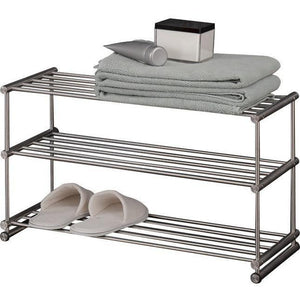 PSBA Floor Standing Shelf Towel Rack Bath Storage Holder 3-tier Matte Steel
Regular price
$792.00
$0.00
PSBA Floor Standing Shelf Towel Rack Bath Storage Holder 3-tier Matte Steel. Created to bring everlasting beauty; this stylish shelf storage is designed to increase the level of elegance in your bathroom.
- Manufactured in Germany.
- Material: Stainless Steel
- Finish: Matte
-Type: Floor Mounted
- Shape: Round
- 3-tier rack shelves
- Adjustable height between the shelves
- Shelf Size: 23.6 W x 11 D
- Dimensions: 24.3 W x 11 D x 14.4 H in.