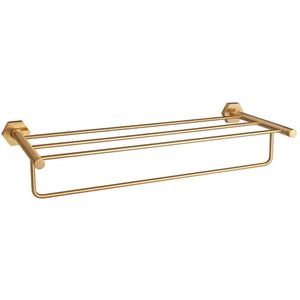 Geo Wall Towel Rack Bath Storage Shelf Hanging Organizer With Towel Bar, Brass
Regular price
$739.37
$0.00
Geo Wall Towel Rack Bath Storage Shelf Hanging Organizer With Towel Bar, Brass. Created to bring everlasting beauty; this stylish Towel Shelf is designed to increase the level of elegance in your bathroom.
- Manufactured in Spain.
- Material: Brass
- Color: Gold
- Finish: Satin Gold
- Type: Wall Mounted
- Shape: Round
- Features: Triple Rail
- Dimensions: 21.1 W x 8.5 D x 3.9 H in.