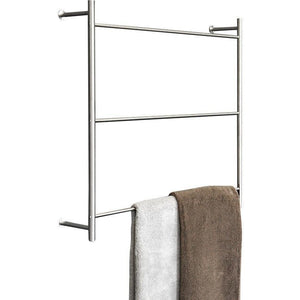 PSBA Wall Towel Rack Ladder for Bathroom Spa Towel Hanger 23.6-inch Steel Matte
Regular price
$528.00
$0.00
PSBA Wall Towel Rack Ladder for Bathroom Spa Towel Hanger 23.6-inch Steel Matte. Created to be used along the wall or in a corner section saving space in your bathroom. Made of Stainless Steel matte finish. Save space in your bathroom by using this stylish wall mounted towel rack ladder with 3 bars. Very elegant designed to increase the level of elegance in your bathroom. Created to offer everlasting beauty with its unique quality and look.
- Manufactured in Germany.
- Material: Stainless Steel
- Finish: Matte
-Type: Wall Mounted
- Shape: Round
- 3 Towel bars
- Space between the bars: 9.5"
- Dimensions: 23.6 W x 4.7 D x 23.6 H in.