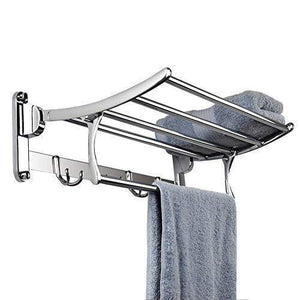 YKDM-CYS Bathroom Towel Rack Wall Mounted Stainless Steel Towel Shelf Towel Holder Hotel Rail Shelf Storage Holder (Size:50 25 10 CM)
Regular price
$49.99
Sale price
$70.49
Brand: YKDM-CYS
Features:
High quality chrome plating Towel Rack
ISO9002 quality standard during manufaturing Towel Rack towel rail
Micro Become Warped Antiskid: Less than 90 degrees of personalized design, to prevent the bath towel, clothing and other things slipping from the top.
One Body Forming: Thickening base and integral hooks, 360 degrees without dead angle burnish removable hook, strong bearing capacity, no deformation, convenient placement, pedestal Edge Finely ground comfortable handle and preventing accidental scratches.
Perfect Details: The folding design allows the limited space to be fully utilized. In the slot, the thickening and super wear-resistant rubber damping is used, which not only plays the role of mute, but also prevents the friction between the stainless steel and the bath towel rack.
Publisher: YKDM-CYS
Details: Feature:
Item: Folding bathroom towel rack
Size:50 * 25 * 10 CM
Material: Stainless steel
Surface: PVD plating
Features: Foldable, activities towel bar, solid hook
Weight: 1000g
Accessories: ABS expansion screws, installation screws, decorative caps

Packaging Details:
1×Towel Rack Wall Mounted (50 * 25 * 10 CM)
UPC: 678547924945
EAN: 678547924945
Package Dimensions: 15.7 x 12.1 x 1.0 inches