151+ unique men's stocking stuffer ideas under $10 for the guys on your list (a whole section of under $5 men's gifts!). Cheap and unique giftswhat's not to like?
Stockings are fun to fill. But for men? Wellsometimes it's difficult to figure out cheap men's stocking stuffer ideas (under $10).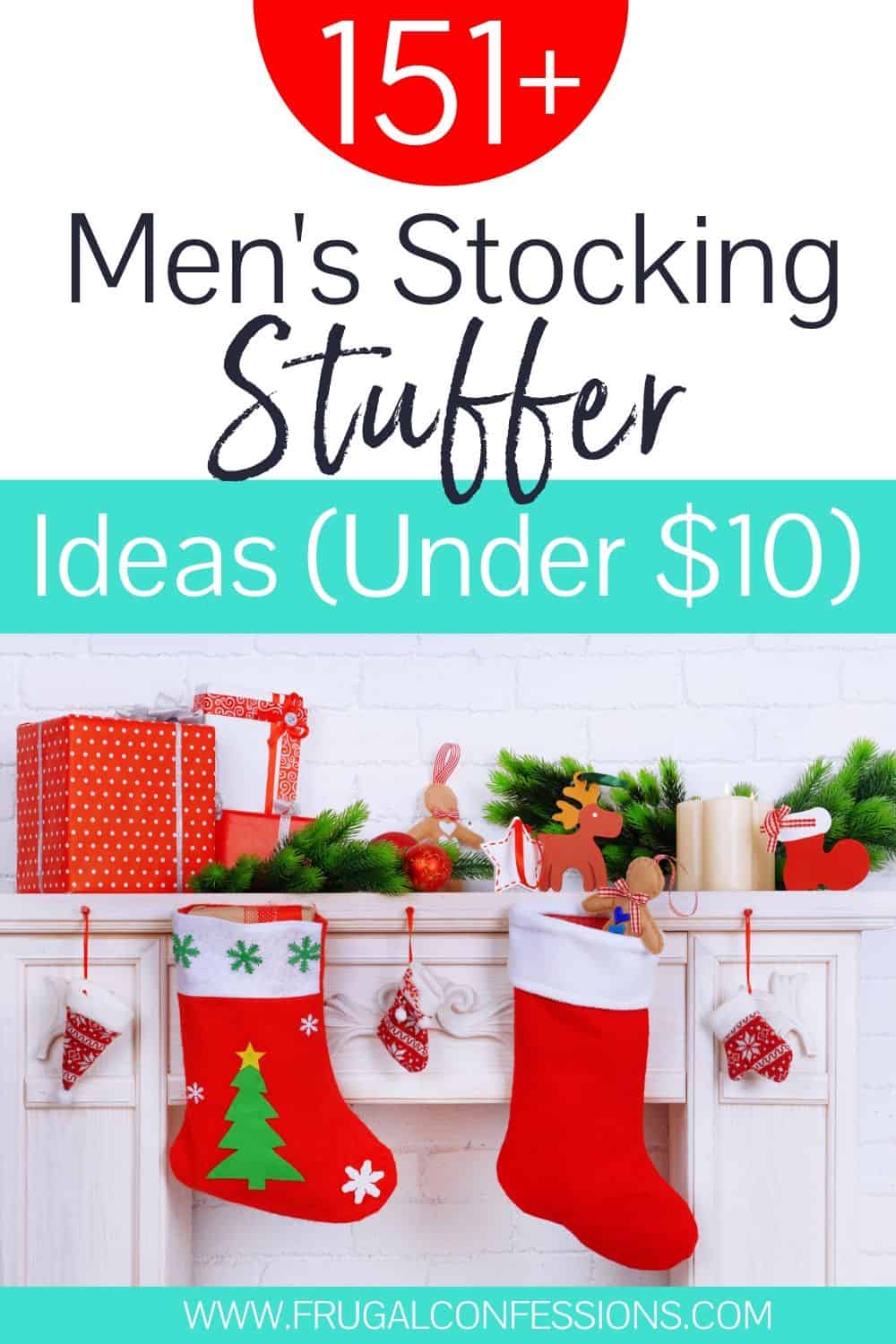 We have a fireplace in our home, and hang stockings for each of us plus our cats every year. This year, I want to focus on all of the fun goodies and unique men's stocking stuffers I can come up withand I'm offering these ideas for both under $10, AND under $5.
Are you ready?
Psst: All gifts on this list are under $10 (at the time of writing this) AND are available on Amazon Prime with 2-day free shipping (perfect, especially if you are a last-minute shopper!). Dont already have Amazon Prime? Grab a free 30-day trial just for the holidays. If you like it? Keep it. If not, well, you just got free, fast shipping all holiday season long.
Men's Stocking Stuffer Ideas (Under $10)
Beef Jerky-Making Kit: If your guy likes beef jerky, then maybe you should get him a kit to make some! Could be a fun thing to try with his buddies.
Mind Games: Mind games are great gifts as they keep you occupied and thinking. They also are excellent gifts for people who work in cubicles and need some punch added to their day. Try out the following: Knots, Visual Brainstorms, and Brain Teasers. Museum stores are also great places to purchase mind games.
Fire Starter Men's Necklace: When I first met my husband, he wore a man necklace! I think he would've loved this fire starter one. It's actually survival gear.
Hot Sauces: If your husband is anything like mine, then hot sauces are on his mind. A lot. Pick up a bottle of two of new and exciting hot sauces your husband has never tried before at your grocery store or local hot sauce store (yes, we have lots of those here in Houston!). Bottles to add as fillers (bonus!) to your Amazon.com orders to make your shipping free include the Iguana Mean Green Jalapeno Pepper Sauce, theZombie Cajun Lagniappe Pepper Sauce, and theBelizean Heat Habanero Pepper Hot Sauce.
Specialty Barbecue Sauce/Jam/Spice Rub/Nuts: You can find an excellent selection of these in the food aisles at Marshalls, Rosss, TJ Maxxs, etc. You will get a great discount, and the variety is phenomenal. Some options on Amazon (could also be great fillers to get that free shipping!) includeDa Bomb Ghost Pepper Nuts, or the Jack Daniel's Pork Rub.
Small Desk De-Stress Toys: Desk toys reduce stress, and give your husband something new to do at work! Like this infinity cube fidget game, or some liquid motion to gaze at.
Candy: Any other chocoholics out there? How about putting in nontraditional but interesting candy, like a giant jawbreaker (reminding them of childhood!), or a spicy chocolate bar with chili in it.
Burts Beeswax Lip Balm (the tin makes it guy-cool!): This is my husband's favorite lip balm by far, and I often purchase extra tins as gifts for others. The peppermint is fantastic.
RFID-Blocking Passport Case: Especially great if your man travels for business!
Himalayan Salt Slab: Here's a salt slab they can use for grilling.
Long-Handled Meat Thermometer: The long handle on this thermometer makes this ideal for grilling.
Commercial-Grade Burger Presses: If your guy is like mine, then he likes to cook hamburgers from scratch. These presses would really help with that!
Pumice Grill-Cleaning Block: Help your guy keep his grill in tip-top shape with this stone (could be the man-take on a piece of charcoal!).
Cast Iron Smoker Box: You use this in an electric, gas, or charcoal grill.
Trendy Car Freshener: How much would the man in your life like a Batman Car Freshener? Perhaps one from Breaking Bad's car wash (that's definitely going in my husband's stocking this year)?
$5 Gift Card to Favorite Morning Drive-Thru: If the guy you're buying likes to hit up Dunkin' Donuts, or McDonald's, or Starbucks in the morning, include a $5 gift card for them.
Lottery Tickets: Buy the dollar ones, and you could include 5 in their stocking! That's a lot of fun for them. Someone did this for me a few years ago, and we won $20!
Favorite Movie Theater Candy: Hit up your candy aisle at your local grocery store and pick out several of their favorite movie-box candy that you can usually only get at the movie theater, but that is now sold in stores.
Mexican Jumping Beans: These will certainly leave the person guessing when they potentially see their stocking shift about every so often.
Astronaut Food: Here in Houston you can purchase astronaut food at big craft stores (also at the NASA gift shop). Types of food include astronaut ice cream, ice cream sandwiches, fruit, etc.
Bromeliads, or Air Plants: These make great indoor plants (like for someone's office!), and are very low-maintenance. They don't require soil to grow, only need moderate light, and once a week you need to give them a good soaking with water.
Bar of Beer Soap: Maybe you never thought your guy would like a bar of soap for Christmasbut how about beer soap? His eyes might light up.
Fishing Lure: Pick out a fishing lure depending on which type of fish your guy likes to catch.
Power Bar Sampler: Pick out 2-3 power bars from that section of your grocery store.
Phone Dock for their Desk: This phone dock would make a nice addition to their desk at work.<
Space Mouse Pad: Does the man in your life love space? Here's a playful addition to their desk.
Man Lunch Bag: See if you can fit one of these manly-looking lunch bags in their stocking this year. They might pack a lunch more often just to show it off!
Pen: Upgrade their everyday pen with this one, which has a nice chrome finish to it.
Dry Rub Shaker: This stainless steel shaker for dry rubs is definitely manly.
Dry Rubs: Pick up some dry rubs from your grocery store, or try this whiskey maple smoke rub out, or this Taste of Cajun Seasoning in a magnetic tin.
The Salt Lick Dry Rub: Okay, okay this one gets it's own number. I live in Texas, and I've had the privilege of eating at The Salt Lick three times (It's located outside of Austin alongside a vineyard). We've tried approximately 19 different barbecue places in Texas, and this one is THE one. So go ahead and grab their dry rub!
Natural Charcoal Starters: Help them get the grill starter quicker with these natural charcoal starters.

Argentina Chimichurri Mix: Aside from (hopefully) being tasty, this Chimichurri mix comes in a really cool-looking tin.
Microfiber Drying Towel: This is said to be an excellent drying towel for car detailing.<
Glove Box Car Documents Organizer: This is pretty nifty, and can help them keep their documents and things organized in the glove box.
Car Documents Holder: Here's another car document holder/organizer that has a magnetic closure.
Natural Mosquito Repellent Bracelets: These natural (plant-based) mosquito repellent bracelets are perfect for outdoorsy men, or men who work outside.
Zinc Alloy Keychain + Bottle Opener: This keychain has a bottle opener AND an LED light attached to it.
Air Vent Car Cell Holder: This is a universal, magnetic cell phone holder that goes into a vent.
Blind Spot Mirror: I had no idea you could purchase one of these to put onto your car's side view mirror!
Car Garbage Bin: Could be a great garbage bin for a truck, too:).
Sun Visor Sunglasses Holder: Boy, we could use a pair of these our sunglass cases take up so much space in our car.
Digital Tire Pressure Gauge: This tire gauge is not only digital, but it also is a flashlight and a seat belt cutter.
Hardcover Auto Log: Your guy can keep track of all repairs and maintenance made to his vehicle with this auto log.
Center Console Pad: This universal center console pad is great for people who have really long commutes, or drive for a living!
Fire Flame Colorant: If your guy loves making fires and bonfires and any fires outdoorsthen this fire colorant would be a fun gift for them. You just drop it on a fire to change it to really cool colors!
Solar Motion Sensor Light: Not sure if this motion sensor solar light will fit into a stocking or notbut it's too cool NOT to include in this man gift list!
Beard Brush and Grooming Kit: Does your man sport a beard? If so, they might appreciate this grooming kit.
Beard Shaping Tool: And if they need a little help with shaping their beard? Wellhere's a top-rated beard shaping tool.
Bull Dog Beard Balm: Here's a tin can of beard balm to help keep things tame.
Viking Beard Conditioner: Here's some cool-looking beard oil conditioner.
Bull Dog Face Wash for Men: Does your man like to use your face washbecause there's nothing else for them to use? Get them a bottle of their own.
Men's Toiletry Organizer: This toiletry bag will organize all your guy's stuff when he travels (or while at home, too which is what my husband does!). And here's an Alpine Swiss one!
TSA-Approved Toiletry Bag: Here's a TSA-approved toiletry bag for men (or women) in case they travel a lot by air.
Esquire's Handbook of Style (Hardback): Here's a hardback book all about style, for men, from Esquire.
Travel Grooming Kit: If your guy checks a bag when they travel, OR, if they need a grooming kit for homethis one is pretty great.
Norse Viking Amulet: Here's a viking-inspired necklace for men.
Minimalist RFID-Blocking Wallet: Your guy not into bulky wallets? This is a minimalist wallet, and has RFID-blocking technology (plus it's genuine leather).
Asset Wallet: So, this wallet actually talks to an android phone! Plus, you can still fit between 1-14 credit cards in it.
Dress Shirt Collar Extenders: Does your guy have to wear dress shirts to workand he needs more breathing room? These are a very thoughtful stocking stuffer.
Braided Rope Alloy Men's Bracelet: Here's a cool, chunky, rustic-looking men's bracelet.
Carbon Fiber Money Clip: This could be a money clip or a business card holder (or both!).
Alpine Swiss Wallet with Money Clip: Here's an Alpine Swiss minimalist wallet that also has a money clip attached.
Infinity Cube Desk Toy: This toy looks super cool, and it's professional-looking enough to be taken to work.
Fidget Spinner: My son got a fidget spinner and guess what? My husband loooovvveees it.
Universal Waterproof Pouch for Smartphones: If your guy gets around water, then this case could save him a bundle in future phone replacement costs.
Tablet or Smartphone Holder: This tablet holder would be super helpful on a desk.
Heavy-Duty Smartphone Protector: You'll have to find the specific one for your guy's brand/model of phone, but here's an example of what I'm talking about.
Last-Word Bookmark: I love this bookmark especially good for when reading the bible and you need to know what verse you stop on!
Cyberpunk Deck of Cards: These are some fun, manly-looking cards.
Black Deck of Cards: These are not only black cards, but they're waterproof!
Arc Lighter: This is the most manly lighter I've ever seenyou even have to recharge it (USB).
Keychain Fire Starter: Buying for a survivalist (or someone who loves to make fires, like my hubby)? Here's a keychain fire starter, so they're never without.
Emergency Sleeping Bag Kit: Here's an emergency sleeping bag that will actually fit into a stocking!
Magazine: Buy one of their favorite magazines off the rack and stuff it in their stocking. Or, go to a bookstore and pick out a totally new magazine they've never heard of, but that they would probably love.
Guide on Edible Plants in Your Area: Here's an example guide for finding local edible plants in Texas.
Paracord Survival Bracelet: This survival bracelet, on top of looking pretty manly, is really a flashlight, fire starter, signal mirror, and more.
Hand Warmers: Does your guy work outside in the winter? I've found packages of hand warmers in the dollar section of Target to gift guys I know who work outside in cold temperatures.
Neck Cooling Towel: Give the man in your life instant relief with this neck cooling towel (it's actually a yoga cooling towel, but it works for lots of other situations as well).
Starbucks Gift Card: A $10 one would cover about 3-4 coffees for my husband.
Contigo Insulated Drink Tumbler: This has a Thermalock vacuum insulation to keep either hot drinks hot for 7 hours, or cold drinks cold for 18 hours.
Tire Shine: Does your guy like shiny tires? Stick this Armor All Tire Shine in their stocking. Here's another tire shine product.
Microfiber Wash Cloth: Here's a cool tool your guy can use when washing their car (or yours!).
Armor All Cleaning Wipes: You can get them cleaning wipes specifically for vehicles.
Car Cleaning Gift Card: You can get include a $10 gift card for a car wash.
New Smartphone Cover: There are hundreds (if not thousands) of smartphone covers available.
Adhesive Phone Pocket: Would your guy want to attach his wallet to his phone?
Guitar Pick Holder: Encourage your guy to pick his guitar back up with this guitar pick holder (works for other string instruments as well).
Guitar Picks: Not sure which one to get? Here's a Fender sampler pack of 24 premium guitar picks (various sizes thin, medium, and heavy gauges).
Clip-On Guitar Tuner: This highly-rated tuner can be used for guitars and other string instruments.
Maple-Wooden Drum Sticks: I was a drummer for 8 years in middle and high-school (even head of the drumline in our marching band my senior year!). Here's two pairs of maple wooden drum sticks I found that I'd love to get my hands on.
Stainless Steel Chopsticks: I met my husband in Japan, and he'd love a pair of manly-looking chopsticks like any of the ones below.
Two-Stage Knife Sharpener: This 2-stage knife sharpener has excellent reviews.
Black Chef Aprons: These look just like the apron the male chef wore in a cooking class I went to earlier this year!
Waist Apron: Is the full-on black apron too much for your guy? Perhaps you can get him a waist apron to use for grilling, chili cook-offs, and cooking.
Cooking/Grilling Tongs: We started using tongs in our kitchen after watching a few chef shows several years ago. And we'll never go back cooking tongs are SO useful.
Prank Gift Box: Do you want to prank your guy? Here's a hilarious branding kit prank gift box. You've got to read this!
Ear Wax Candle Kit: Speaking of prank giftshere's another funny one.
Magnetic Bumper Sticker: There are TONS of magnetic bumper stickers available. Here's one from a certain slightly dysfunctional (but awesome) paper company in Pennsylvania.
Magnetic Wrist Band Tool Belt: Does your guy work around the house a good bit? This magnetic tool belt could be pretty handy.
Bottle Opener: This isn't just any bottle openerit's an ARMY man bottle opener. Which makes it vastly more interesting
Wall-Mounted Bottle Opener: This could be great for a man-cave, or the garage.
Brew Candy: I'll let you decide if this is a good idea or not.
Kentucky Bourbon Whiskey Soap: Does he like whiskey? He might just want to bathe in it.
Charcoal Soap: Here's a bar of Art of Sport, charcoal soap.
If You Give a Guy a Beer Paperback: If you or your guy has ever read If You Give a Mouse a Cookie (1 or 1,000 times) to the kiddos, then you both might find this spoof funny.
GoodYear Tire Coasters: These tire coasters could be sweet for a man cave.


Psst: I've got a whole article on best NASCAR gifts for fans.

Grill Mats: I've never even heard of thesebut they look pretty cool. These black grill mats are non-stick, and great for easy clean up or for if your man's grill is way dirty but he still wants to use it.
(Hardback) The Book of Unusual Knowledge: Does your guy seem to know (and be curious about) the most random details? So does mine! He'd probably love this book.
500 True Facts that Sound like Bull$h*t (Paperback): Or this book of facts!
NFL and PGA-Stadium Approved Shoulder Bag: If your guy goes to stadiums, this bag could get his stuff through the front door.
Dale Earnhardt Vanity Metal License Plate: To spruce up his car, or hang in the garage.
Coffee Brew Buddy: This is an easy and quick way to make just one serving of coffee (also great for camping and traveling).
Frothing Pitcher and Decorating Pen: Is your guy a frother? You know, he likes to make froth for his homemade lattes and such? Here's a frothing pitcher AND a frothing decorating pen.
Mechanical Pencils: Personally, I like to use pencils for certain things (like planning my business year out). Let's bring back the 90s for your guy with a mechanical pencil.
Windshield Sun Shade: This is a 2-piece, foldable sun shade.
CD Visor Organizer: Does your guy still carry around audio CDs (*raises hand*)? Here's an organizer for their visor.
DVD Holder: Here's a case that will hold 24 CDs or DVDs.
Traditional Slingshot: This slingshot looks like it could be a lot of fun
Cooking Torch: Ever notice how men get really excited about new gadgetseven kitchen ones? This cooking torch could be just the thing to get them excited about cooking for you!
Beer Layering Tool: Get your guy the tool he needs to layer different beers with each other (again, I never knew that was a thing!).
Beer Review Logbook: This would be especially fun to give before going on a craft brewing tour!
Plastic Beer Cap Shooter: You can both open beer bottles with this, AND shoot the caps.
Paleo-Certified Beef Jerky: Do they love beef jerky, or eat Paleo? Check out this Paleo-certified beef jerky.
Keto Beef Jerky: Here's some Keto beef jerky.
Now, are you ready to hear a list of men's stocking stuffers for under $5?
Men's Stocking Stuffer Ideas (Under $5)
Alrightready for my list of Men's stocking stuffer ideas for Under $5?
New Car Smelling Air Freshener: What man doesn't want their car to smell like it's brand new? Here's anew-car-smelling air freshener they can put under your passenger seat.
DVD from Wal-Mart's $5 Bin: These are usually from the pre-2005 variety, but I'm sure you'll find something the man in your life would love to own and watch whenever they'd like.
Car Detail Brush Set: These car detail brushes are supposed to be super soft, and have great reviews from over 600 people!
Car Documents Holder: Your guy can store their car insurance and registration in this.
Wheel Key Lock Storage Pouch: Does your guy's car tires come with wheel key locks? Here's a pouch they can use to store them.
Extra-Sized Favorite Candy Bar: In your grocery store's candy section, find a large-sized bar of their favorite chocolate candy.
Hand Warmers: You can get a pack of 3 pairs of hand warmers to add to a guy's stocking who works outside.
Starbucks Gift Card: A $5 one would cover about 2 coffees for my husband.
Home Button Sticker: Not only can you deck out your guy's phone a bit with a home button sticker, but it works with the fingerprint ID functionality as well by improving correct identification.
Guitar Pick: Here's a pack of 12, medium Fender guitar picks (love the ocean turquoise color!).
Exotic Wooden Guitar Pick: Here's a 3-pack, teak-wood guitar pick that's supposed to create warm tones.
Manual Knife Sharpener: This 2-step, manual knife sharpener has excellent reviews.
Buy a Pack of Pen Refills: I have a nice pen, and my husband does too. But we each go months without ever using them because getting to the office store to buy a refill takes time. So, take this time to stock your guy up on pen refills for that luxury pen in his life that he loves!
Beef Jerky Sampler: Go to a grocery store, and pick out several kinds of beef jerky.
Can of Chocolate Covered Nuts: Again, at your grocery store, splurge on a can or package of their favorite nut, covered in chocolate.
Which stocking stuff ideas are you most excited about? Any other ideas these inspired?
The post 151+ Mens Stocking Stuffer Ideas, Under $10 (Bonus Under $5 Section) appeared first on Frugal Confessions - How to Save Money.