• Bathroom • BlackPaint • Design • Faucets • Remodel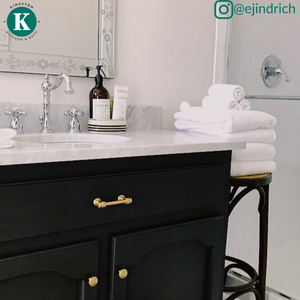 For homeowners who are looking to enhance the look of their bathroom, a fresh coat of paint can be just the trick. When used well in the space, black paint is an excellent choice for covering up blemishes, adding a modern touch to the room, and complementing other colors. The beauty of adding black paint to a bathroom is that it is a neutral tone, which means that it can be paired with warm or cool finishes. Its excellent versatility is just one of the many reasons homeowners are flocking to black paint for a quick and affordable bathroom renovation....
---
• Bathrooms • Design • Stories • Update
Sometimes, numbers are numbers. Sure, you might be yearning to start completely fresh in your bathroom, but the reality is, a complete bathroom remodel is expensive—in fact, a whopping 64-percent of people underestimate how much it really costs. But that doesn't mean you have to live with a space you've grown tired of. There are plenty of ways you can upgrade without shelling out a ton of cash. A bit of paint can go a long way, and if tile is your problem area, there are a few solutions that don't require you to totally replace it. These easy ideas...
---
• design • like • olshopbatam
https://amzn.to/2S5kWIT #like #design #olshopbatam Genius Ways To Arrange Your Wardrobes See these ...
---
• design • lovely • styleinspo
https://amzn.to/2Mu0PPr #styleinspo #design #lovely Tips for Organizing Your Closet We bring you one of the most unique space ...
---
• design • styleinspo • to
https://amzn.to/2HwmUOE #styleinspo #design #to Brilliant Ways To Organize Your Closets Check out these ...