These perfectly prepared Coffee Rubbed Grilled Lamb Chops are tender, mouthwatering, and bursting with rich and savory flavor. This is a drool-worthy dinner that you can make at home in just thirty minutes!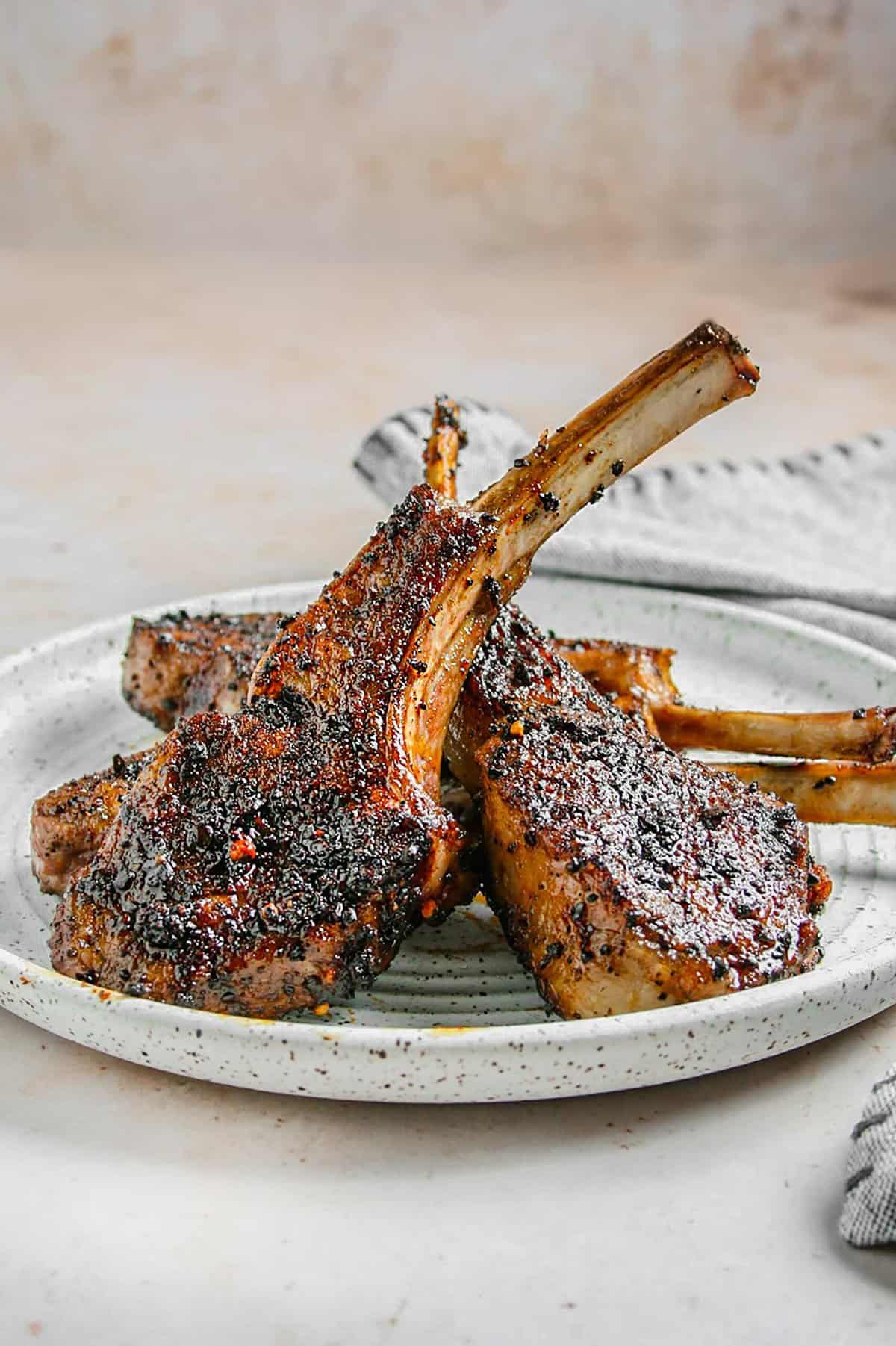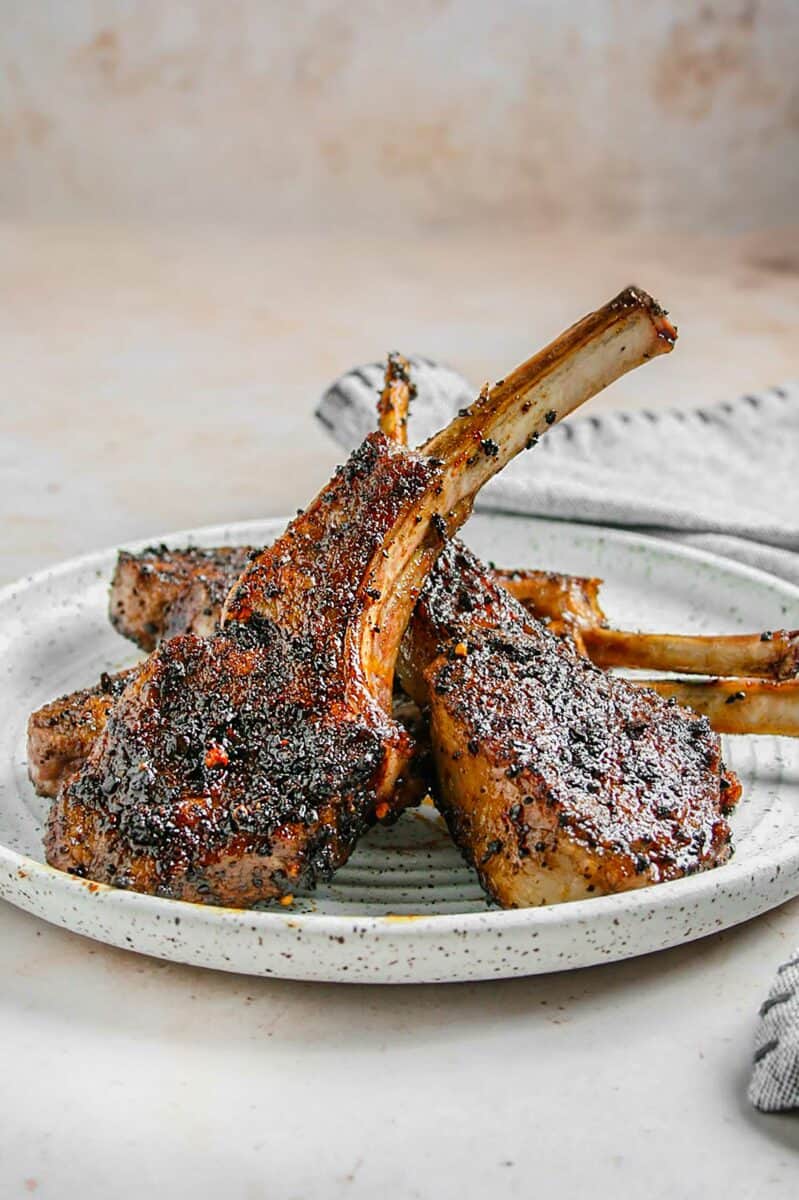 If you've never had a coffee rub on any cut of meat before, you're sorely missing out! However, you won't be missing out much longer, because this easy recipe for coffee rubbed grilled lamb chops is here to help you seriously elevate your culinary game.
This is a dish that when served to guests always gets a tons of compliments, because of both how delicious and unique it is!
Coffee and lamb may sound like a strange pairing, and maybe it is… But that doesn't mean it's not unbelievably delicious, too!
The coffee rub also includes ingredients like smoked paprika, dark brown sugar, black peppercorns and more. Truly, the complexity of this flavorful rub is what makes these grilled lamb chops so remarkable. The perfect grilling method helps too, of course.
While I typically think about grilling meat as a summertime activity with burgers, hot dogs, and all that jazz, I love firing up the grill all year long for these coffee rubbed lamb chops.
It's never a bad time to serve them! Christmas parties, backyard barbecues in the summer, and football parties in the fall are all perfect times to fire up the grill and enjoy these tender and flavorful lamb chops.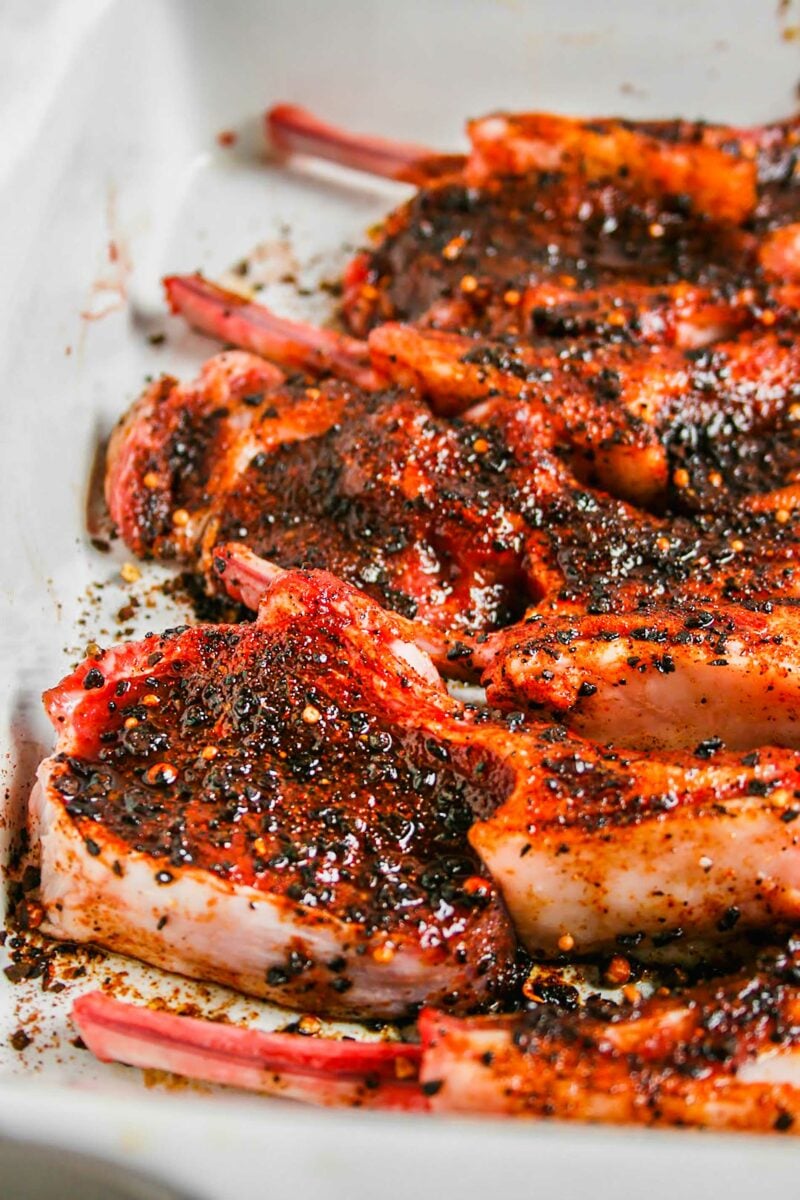 Ingredients for coffee rubbed grilled lamb chops
The coffee rub will need:
Coffee – Use whole coffee beans. Any brand should do the trick.
Smoked paprika – This is important for two reasons – it gives the rub a vibrant hint of red, and it helps to enhance the smokey flavor from the grill.
Brown sugar – Use dark brown sugar for the richest flavor.
Salt – Kosher salt works the best.
Peppercorns – Whole black peppercorns are what you'll need. However, ground black pepper will also work in a pinch.
Mustard seeds – Make sure you're using mustard seeds, not ground mustard!
Ground ginger – Be careful not to add too much ginger, as it's quite a powerful ingredient.
Chili powder – Similarly to the ginger, just a pinch of chili powder is all you need.
The lamb chops themselves call for:
Lamb chops – You'll need toughly 2 racks of lamb or 16 lamb chops for this easy recipe.
Oil – I like to use neutral flavored high heat oils like avocado oil. Olive oil will also work.
Coffee rub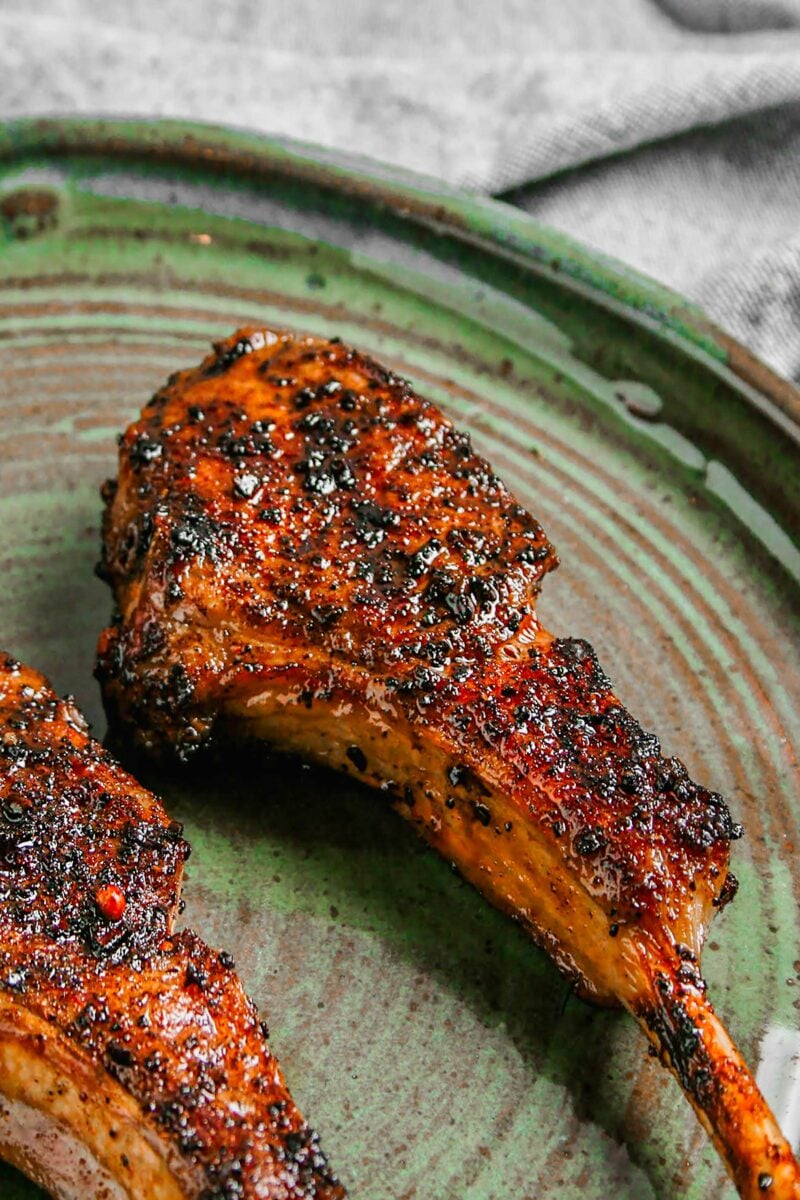 How do I know the lamb chops are done?
If you have a meat thermometer, insert it into the meat, close to the center. You want a reading of 145 degrees Fahrenheit, as recommended by the FDA!
Why do I need to let the lamb chops rest before serving?
Letting your grilled lamb chops rest is something you should do for just about all grilled meats, actually.
This is because during that resting period, the juices will redistribute throughout the meat. If you cut into the meat too soon and don't allow it to rest, the juices will end up everywhere but in the meat.
Will the coffee beans keep me awake?
If you're sensitive to caffeine, it could, but typically it's not enough to do that. However, if you're concerned about it you can go ahead and use decaf beans!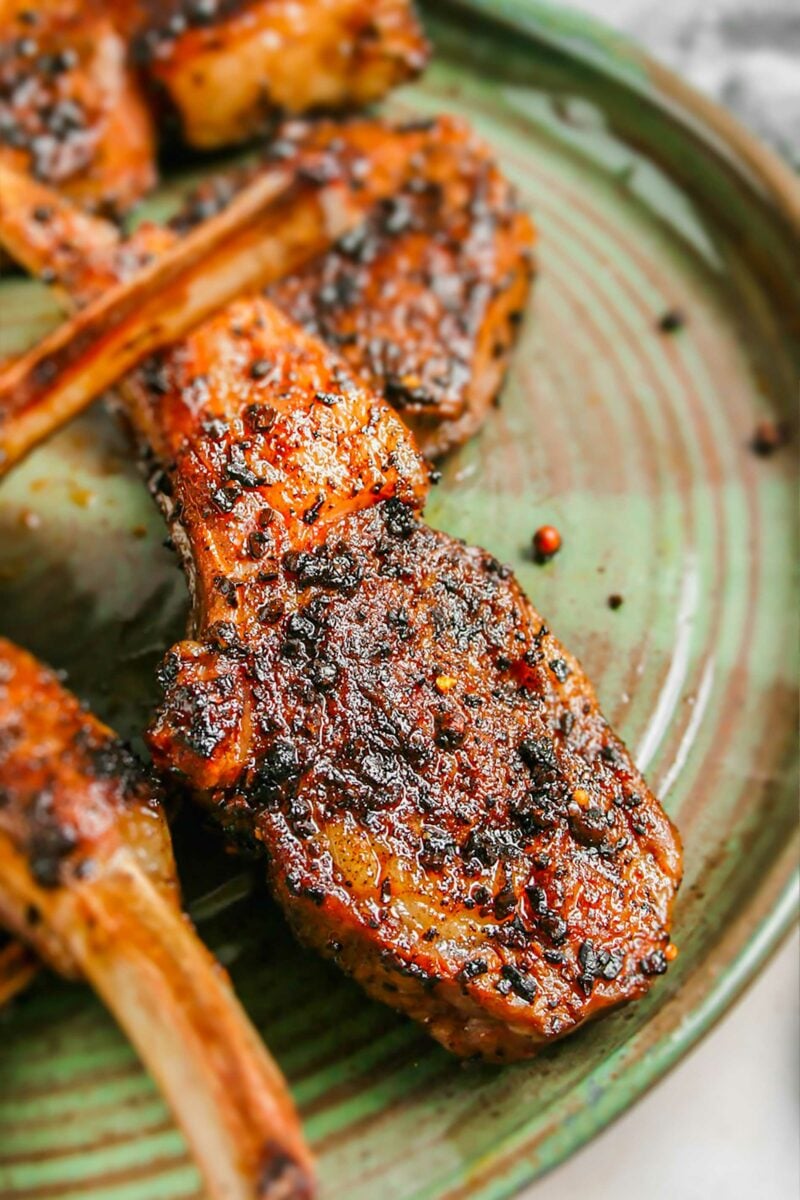 I love keeping my grill hot!
Print
Grilled Coffee Rubbed Lamb Chops
These perfectly prepared Coffee Rubbed Grilled Lamb Chops are tender, mouthwatering, and bursting with rich and savory flavor. This is a drool-worthy dinner that you can make at home in just thirty minutes!
Keyword
grilled lamb, grilling
Ingredients
Coffee Rub:
6

tablespoons

whole coffee beans

2

tablespoons

smoked paprika

3

tablespoons

dark brown sugar

1

tablespoon

+

1

teaspoon kosher salt

2

tablespoons

black peppercorns

1

teaspoon

mustard seeds

1

teaspoon

ground ginger

½

teaspoon

chili powder
Lamb Chops:
3

pounds

lamb chops

roughly

2

racks of lamb or

16

lamb chops

3

tablespoons

neutral high heat oil such as avocado oil

5

tablespoons

coffee rub
Instructions
For the coffee rub (makes 1 cup but will vary depending on using whole beans vs. ground coffee)
Heat a dry skillet over medium heat and toast the whole coffee beans, black peppercorns, and mustard seeds. Toast for 3 minutes until fragrant then remove from heat

Add the toasted whole spices, along with the smoked paprika, brown sugar, coarse salt, ground ginger, and chili powder to a food processor, blender, spice grinder, or mortar and pestle. Grind/Blend until a relatively fine consistency is reached. Do not worry if the coffee beans are not as fine, this will give a fun variety to the texture of the rub.

Transfer to an air-tight container and store for up to one month in a cool dark place such as a pantry or spice drawer.
For the lamb:
Preheat your grill to high, roughly 400 degrees Fahrenheit.

Use a chef's knife to separate the lamb chops from their rack. Pat them dry with a paper towel. Brush with 2 tablespoons of olive oil then evenly coat the lamb chops on both sides with the coffee rub. Add the coffee rub to taste. I used 5 tablespoons as I wanted the rub to form a thin crust when grilled, but you can use less or more, if desired.

Transfer the lamb chops to the grill and cook over direct heat for 2-3 minutes per side, or until their internal temperature reaches 135 degrees Fahrenheit.

Remove from the grill. Cover in tinfoil and let rest for 8 minutes. Then serve and enjoy
Notes
Whole Spice to Ground Conversions:
Coffee Beans to Ground Coffee or Espresso Powder – 5 tablespoons : 3 tablespoons
Peppercorns to Ground Pepper – 2 tablespoons : 2 tablespoons
Tips: In a pinch, you can use ground coffee or espresso powder. However, I suggest using whole coffee beans as they have a fresher flavor and add variety to the texture of the rub.
You can also use ground pepper instead of whole black peppercorns.
Store leftover coffee rub in an air-tight container for 1 month
Nutrition
Serving:
1
serving (4 lamb chops)
|
Calories:
725
kcal
|
Carbohydrates:
15
g
|
Protein:
85
g
|
Fat:
35
g
|
Saturated Fat:
11
g
|
Polyunsaturated Fat:
3
g
|
Monounsaturated Fat:
17
g
|
Cholesterol:
257
mg
|
Sodium:
1954
mg
|
Potassium:
1247
mg
|
Fiber:
3
g
|
Sugar:
9
g