Serena and Lily Thank You Event:Today is the perfect time to snag on that home purchase youve been dying to make for months (you know the one that is saved in your cart!) Read on to see my favorites from the sale, what weve been doing around our house, and what I am eyeing (and a sneak peek of our office makeover!)
This is a sponsored post in partnership with Serena and Lily. All thoughts and opinions are mine.
SERENA AND LILY THANK YOU EVENT
While we havent had many huge DIY updates lately, weve been tweaking the house with lots of little updatesincluding a lovely kitchen upgrade during naptimes! These are manageable little projects that really provide a lot of change for minimal effort.
As you know, we plan to renovate our kitchen; but, in the meantime we wanted to update our kitchen stools to something more comfortable. During Serena & Lilys Thank You Event, its the perfect time to make that purchase youve been wanting to make (and save 25%!)
In years past, Ive always used these sitewide sales from Serena & Lily to save on something Id been eyeing for months (or years in this case with the kitchen stools!) Last year, we purchased THIS WALLPAPER (click here to have a sneak peek of what we are planning for the office makeover). The year before that, I used the sale to stock up on linens for Jacks bedroom. And the year before that, I used it to buy blue and white crib linens and twin sheets for our baby boy nursery.
So lets go those updates! Below each picture, Ive linked products to get a similar look or exact look (all 25% off!)
KITCHEN UPDATES
After literally pining after these kitchen stools for years, we now have the amazing Chevron Riviera Kitchen stools. While our kitchen set-up isnt forever (we plan to completely gut it and reconfigure the layout so its more functional), I wont lie. I love the view seeing these gorgeous chevron stripes next to my blue and white bookshelves around the fireplace! We plan to get one more for Caroline down the line.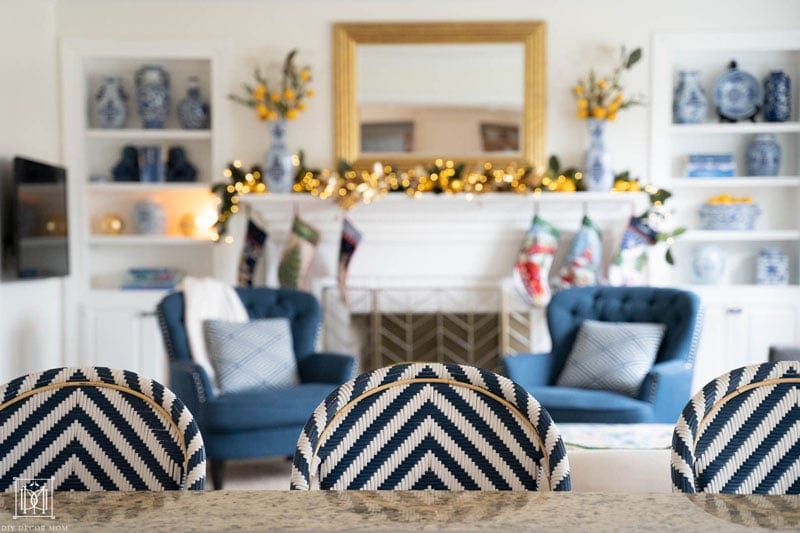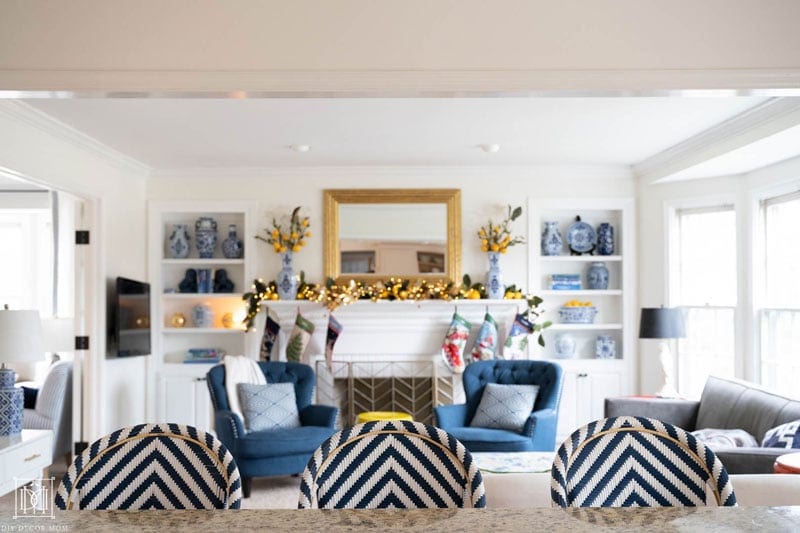 They tie in perfectly with the Greek key lamps, and coordinate with our breakfast area curtains, and really bridge the gap between the two rooms making it feel like one large great room.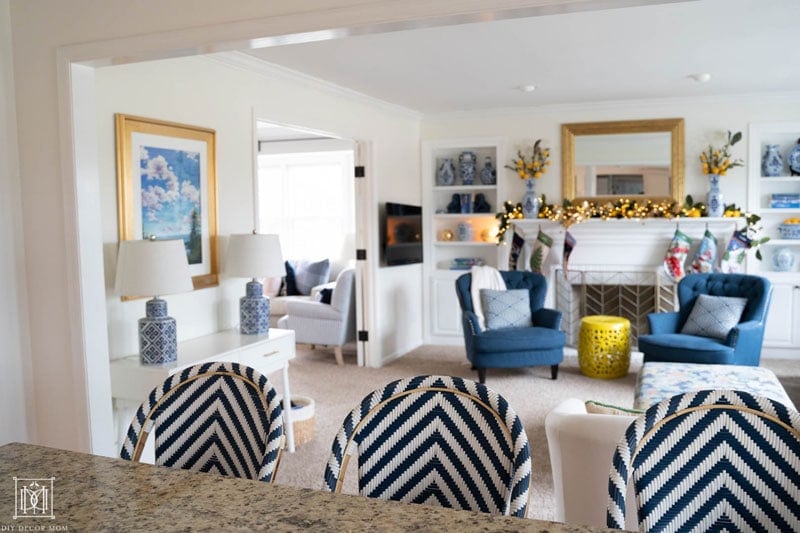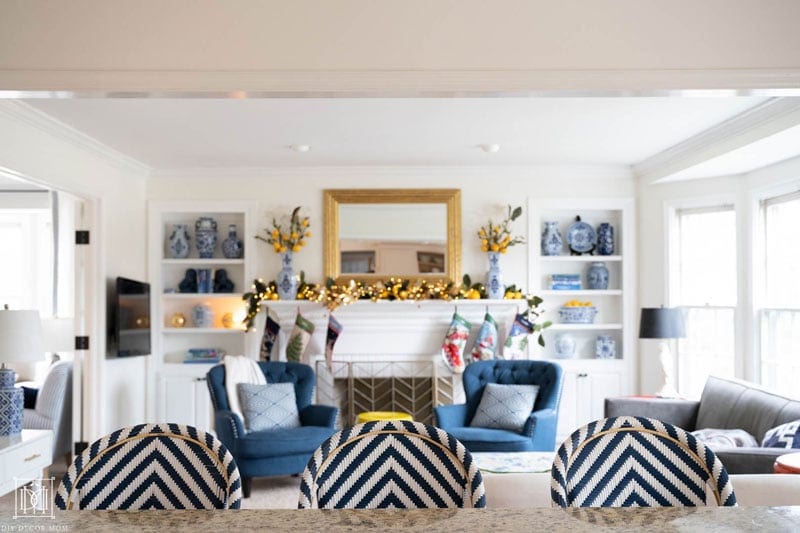 JACKS ROOM UPDATES
This summer (while I was 9 months pregnant,) my amazing husband and mother-in-law wallpapered Jacks big boy bedroom with Serena & Lilys Acadia wallpaper. The only problemwe only did one wall and now I want to do all the walls! The beautiful handpainted stripes are soft enough for a little boys room and versatile enough for a big boy room that will age with him as he grows up. They have a touch of navy in them that coordinates with the navy accents around the room, and the french blue in his bedding.
And they coordinate perfectly with his Serena & Lily bedding (discontinued but you can get a similar print here). Ive always loved his nautical themed room, and the stripes really pull it all together!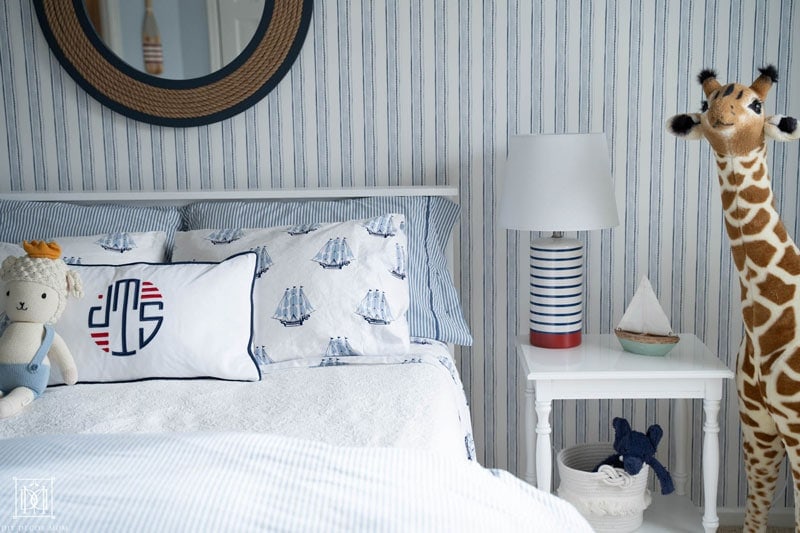 25% off Acadia Stripe wallpaper/ Similar mirror/ similar bed/ sheets (Serena and Lily but discontinued) similar sheets/ similar nighstand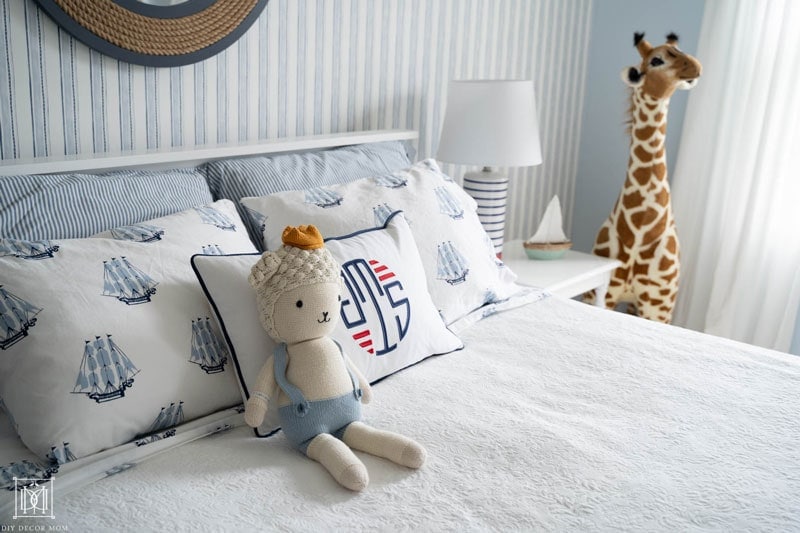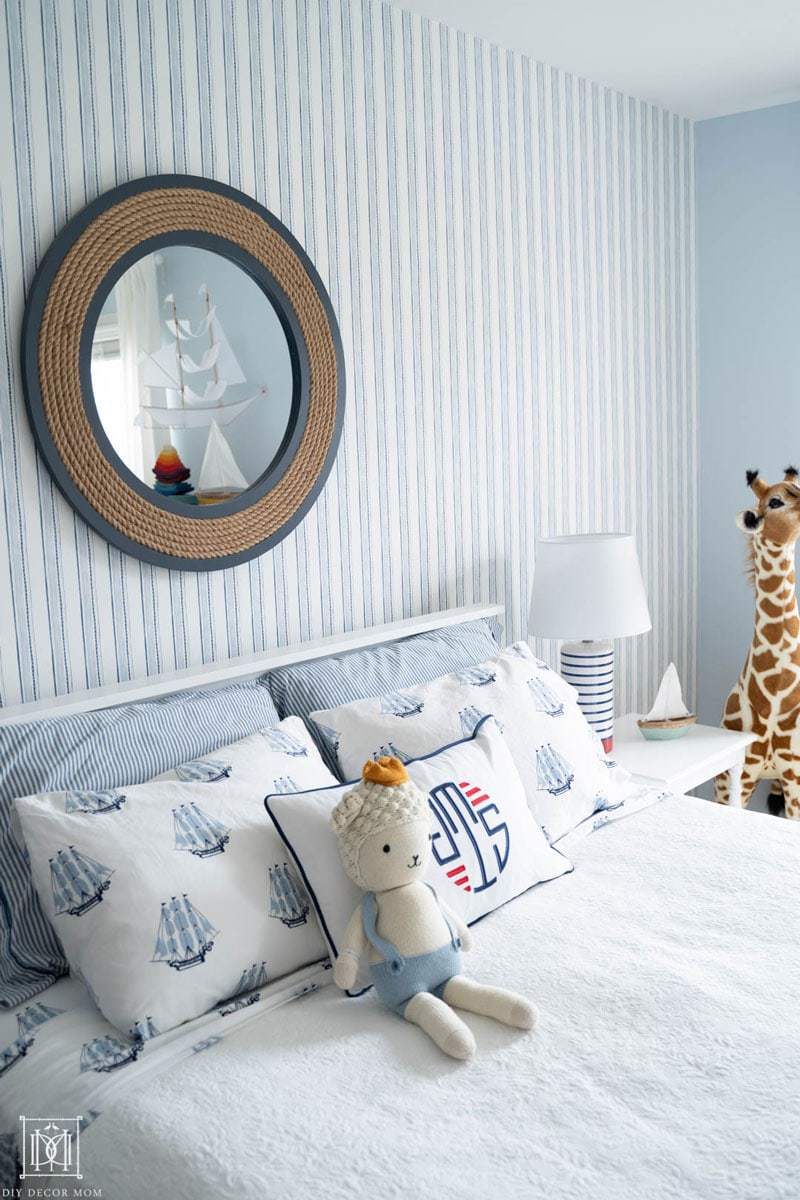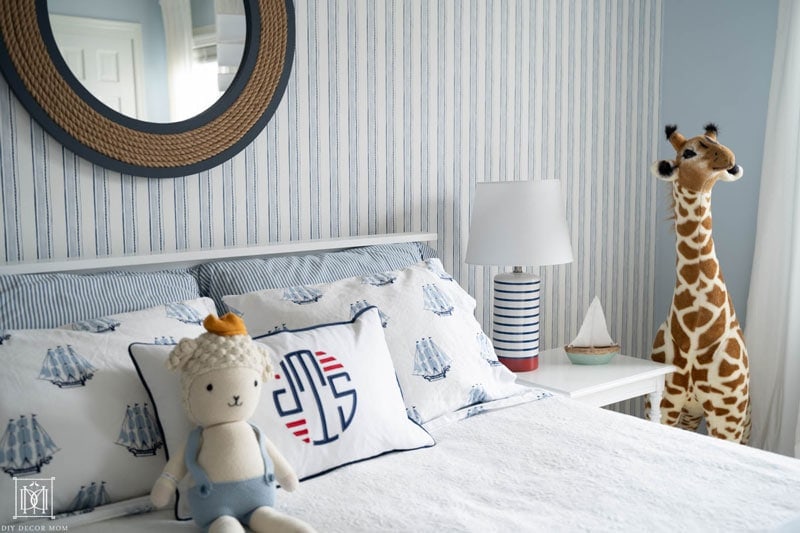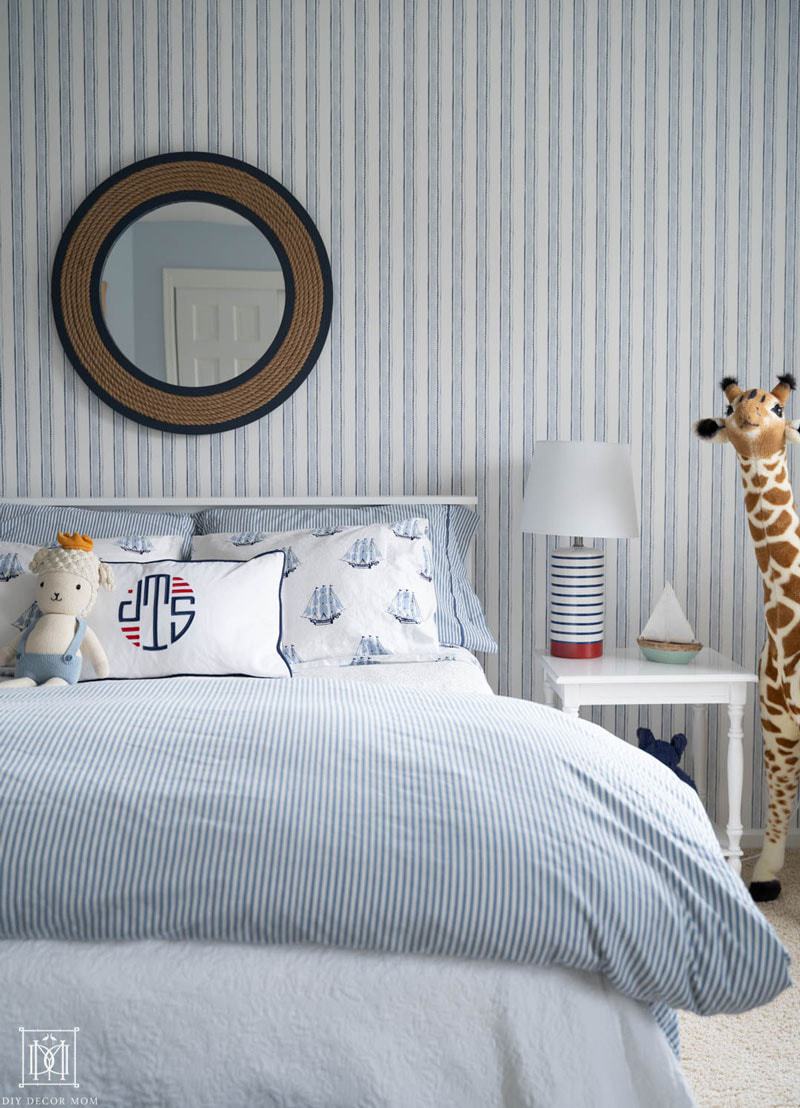 similar duvet cover here/ 25% off Acadia Stripe wallpaper/ Similar mirror/ similar bed/ sheets (Serena and Lily but discontinued) similar sheets/ similar nighstand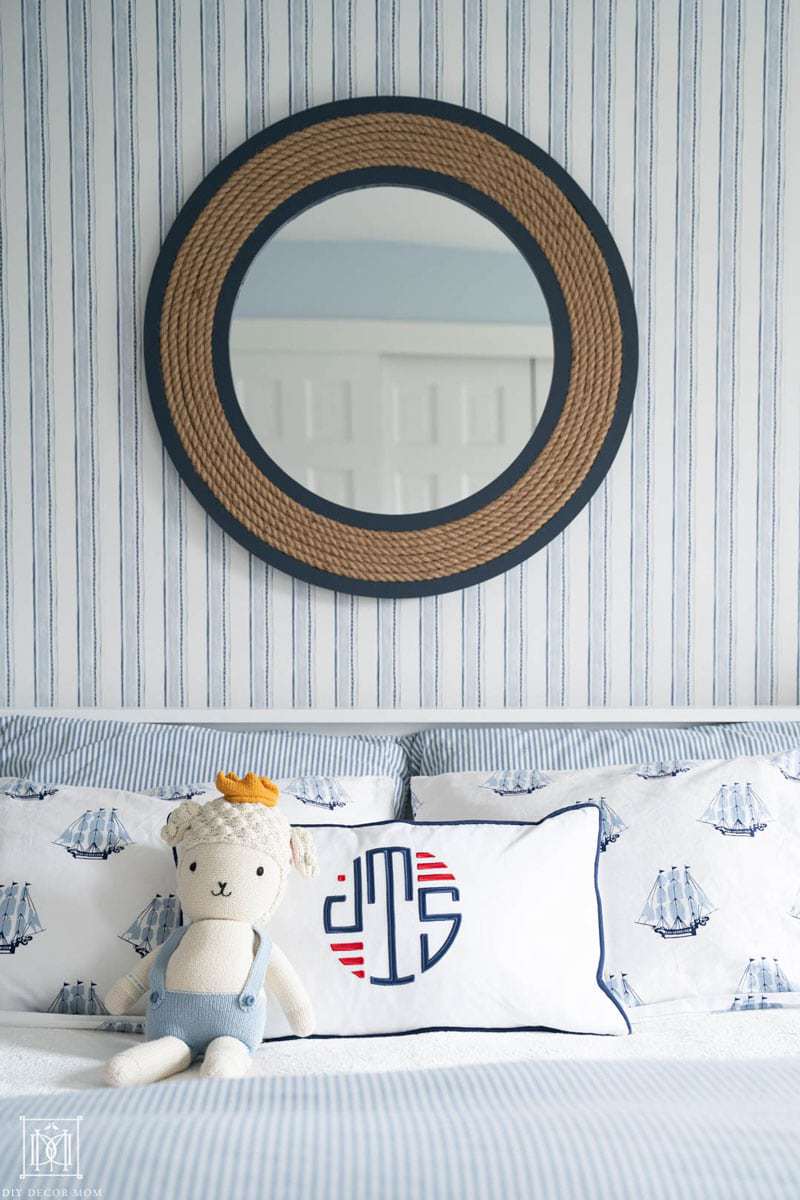 PLAYROOM UPDATES
We also revamped our playroom storage with these gorgeous La Jolla storage baskets La Jolla storage baskets (we have two of them in the playroom). We use them for dress-up so its light things only in there (and gentle on the beautiful seagrass!) With the exception of Jack trying to pop out of them like a rattlesnake a la Indiana Jones, its been a great improvement!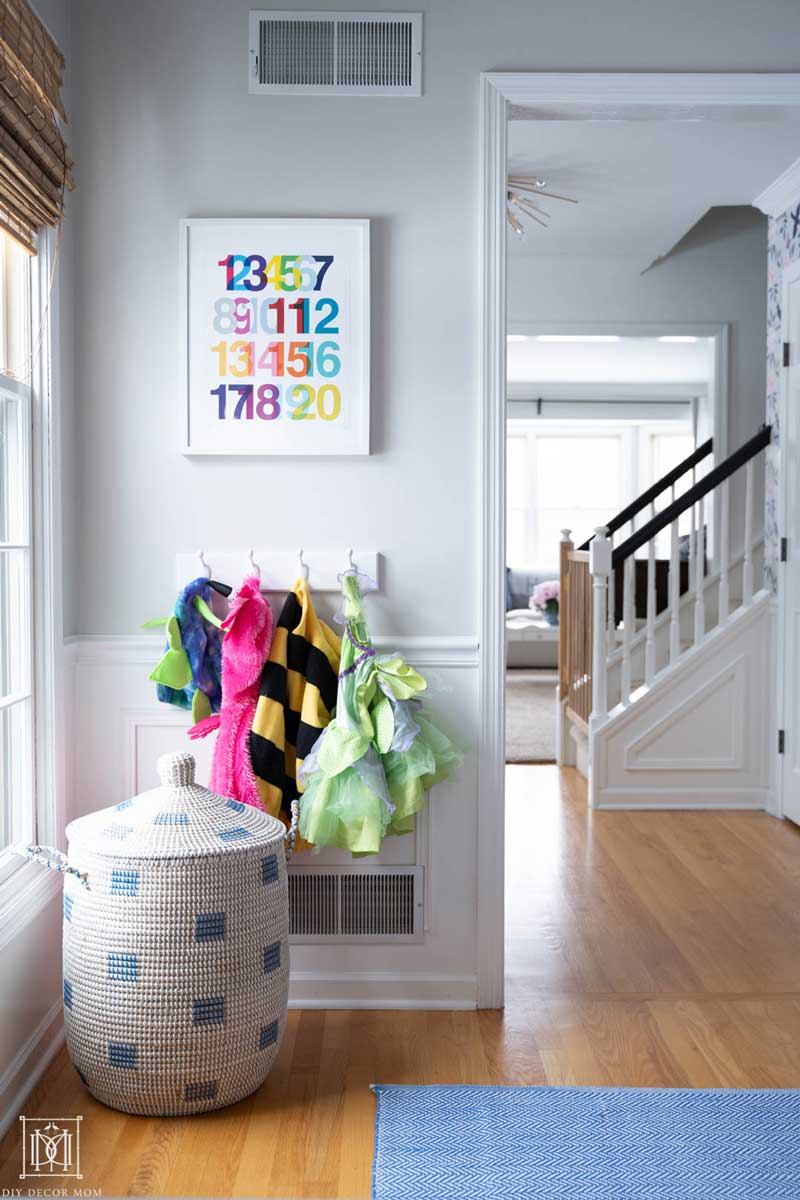 La Jolla basket 25% off/similar rug
MASTER BEDROOM UPDATES
If you missed it here, we also revamped our master bedroom for when its in use for guests. This fall, Evan and I took Caroline to a blogging conference hosted by our advertising network and my wonderful in-laws stayed with the kids. Its always easiest for the kids to sleep well when they are in their own beds, so we made our master bedroom up ready for them.
I also took the chance to get new guest towels, and these bath sheets couldnt be more luxurious feeling!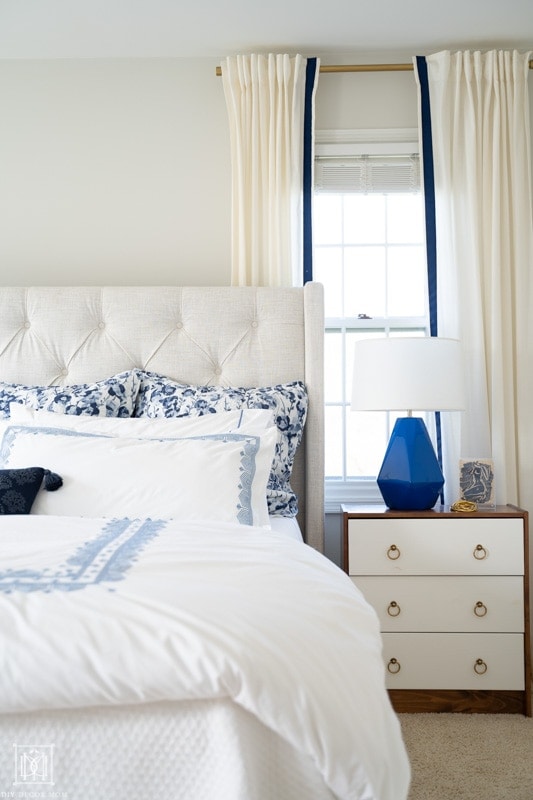 sheets/quilt/duvet cover/king sham/euro shams/similar bedside table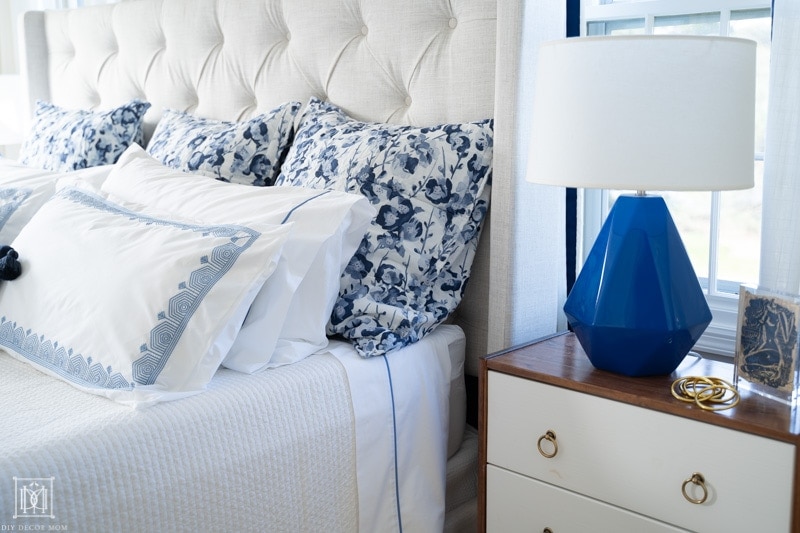 duvet cover/navy blue throw pillow/euro pillows similar nightstand/ DIY curtains
KIDS BATHROOM UPDATES
With our guest refresh, our kids bathroom also got a mini-upgrade! I replaced the orange DIY roman shade curtain with ones we used to use in our master bedroom (see how to make your own DIY Roman Curtains here), and we replaced all the towels, and added a lovely La Jolla basket to store toilet paper (just dont tell Brooke!)
We also replaced the lime green floor mats to a super plush white bathmat from Serena & Lilysomething even our dog/ housesitter commented on!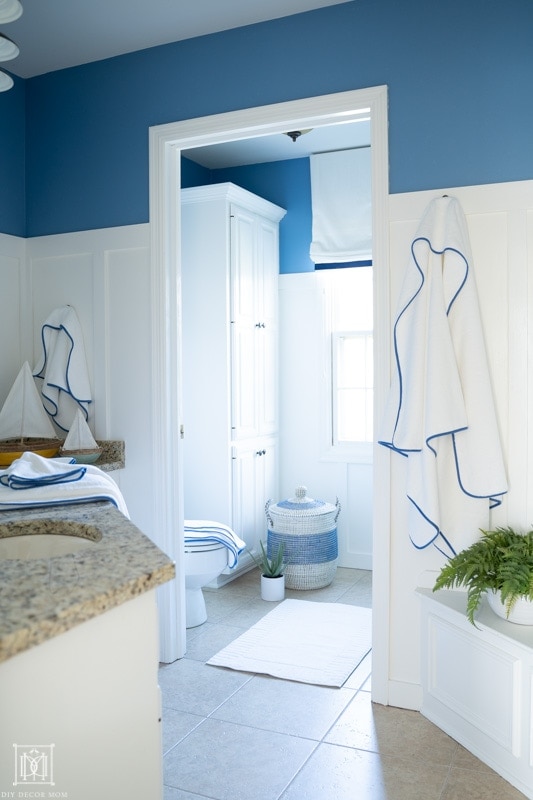 hand towels/ washcloths/ bath sheet/basket/ bath mat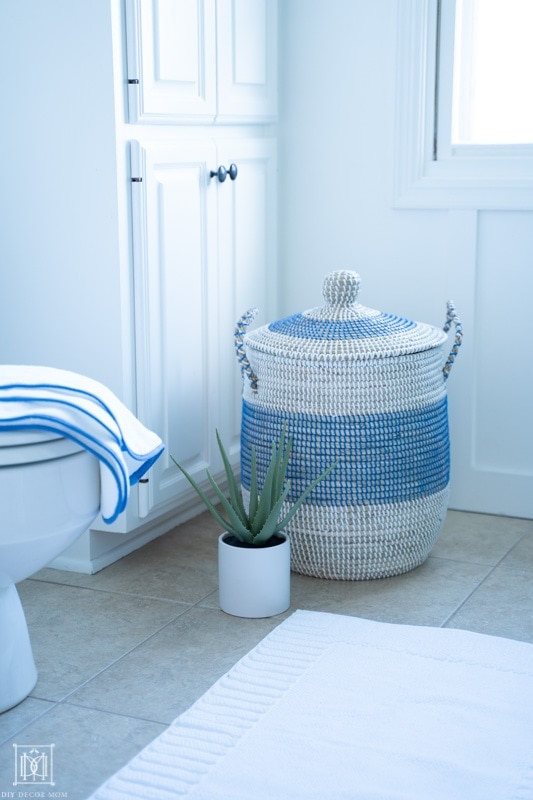 DOWNSTAIRS BATHROOM
And dont forget that this Bar Harbor mirror is also 25% off! We replaced this mirror a year or two ago during a 25% off sale, and Ive been smitten ever since! It made the room and pulled together all the components! They also have a floor length version!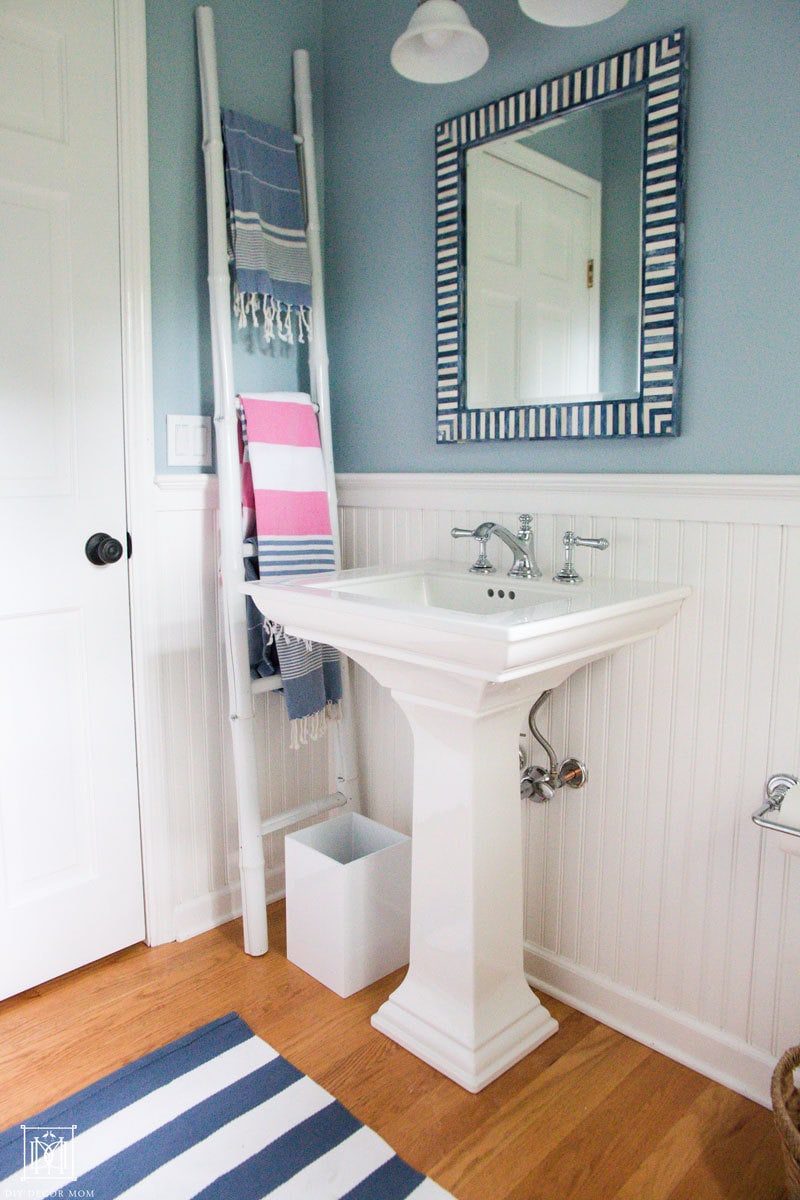 Bar Harbor Bone Inlay Mirror/ similar turkish towels/ similar towel rack
LIVING ROOM UPDATES
With the passage of time, I find that my tastes have softened. In place of solely navy blue, Ive started to embrace light blue as welland it was these Blakely shams from Serena & Lily that made me do it! And I absolutely love them! They tie in perfectly with our sitting room chairs and the DIY Greek curtains. Ive even added a few blush pillows and made it a theme for this years Christmas tree!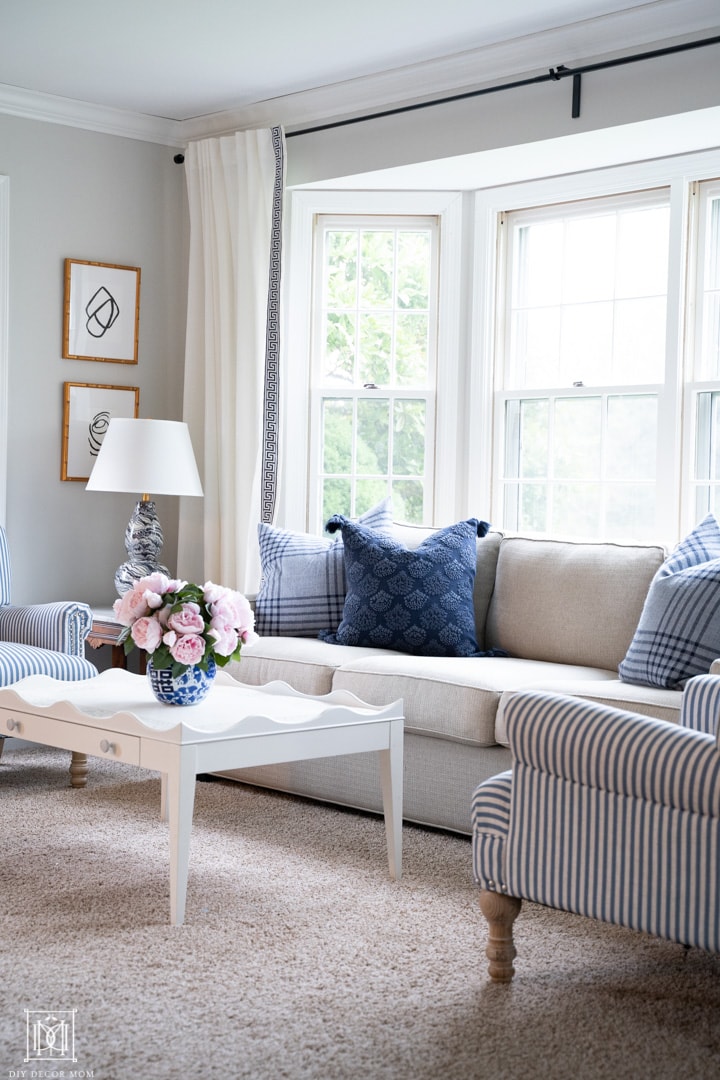 chambray blakely pillow/oakview pillow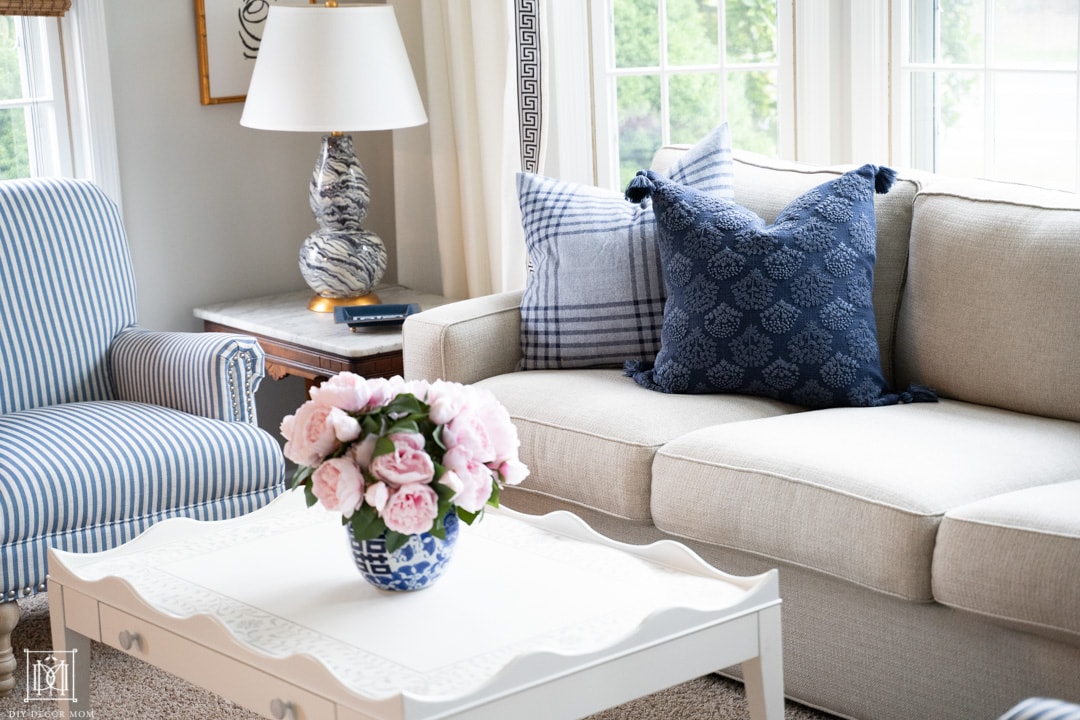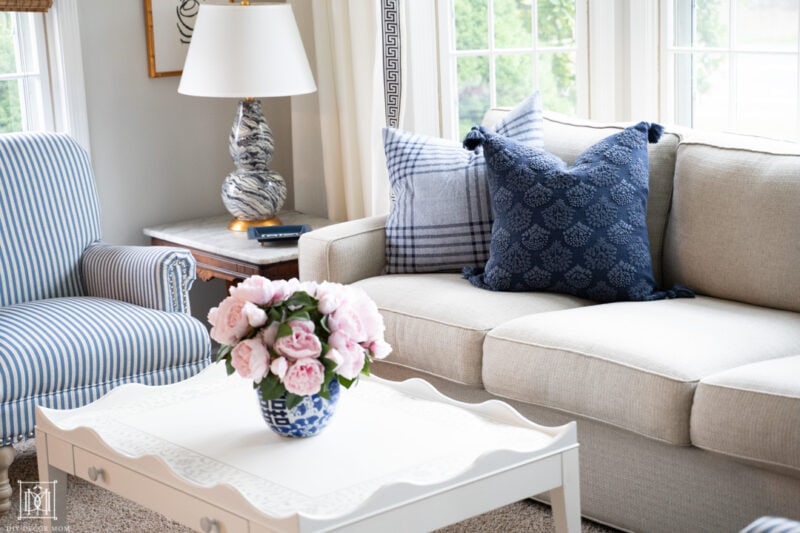 Shop all my favorites here: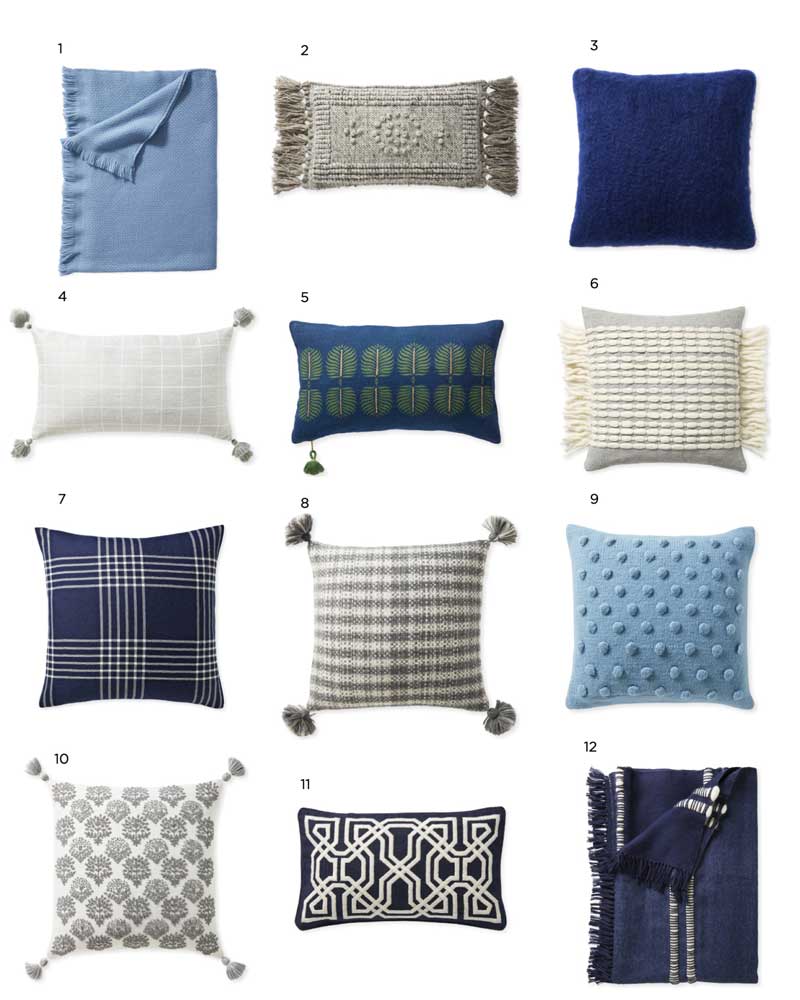 1- alpaca throw/2- montecito pillow cover/3- albion pillow cover/4- mayne pillow cover/5- granada pillow cover/6- winter beach pillow cover/7- blakely pillow cover (what we have!)/8 west shore pillow cover/9- auckland pillow cover/10- oakview pillow cover (what we have!)/11- jetty pillow/12- palomino alpaca throw
What am I eyeing, you may ask? Well, to be honest, I cant get this brand new dresser (its the dreamiest color) and this console table out of my head. Although having grasscloth does scare me a bit with four kids to be completely honest. Just this morning, I found a little surprise from one of the kids with some ink written on the back of one of the chairs. I think I know exactly who did it (and we will have a serious conversation).
For the most part the kids are incredibly respectful of all the furniture and nice things in our house. The hardest wearing rooms in the house are by far the family room and the kitchen, which take 75% of the wear and tear. But the Riviera stools hold up well and are wipeable (thank goodness!)
Now, dont wait because the 25% off sale wont last forever! This is even bigger than the Friends & Family Sale!
The post Serena and Lily Thank you Event appeared first on DIY Decor Mom.