Thanksgiving is around the corner, which means it's time to think about your food, and this SMOKED SPATCHCOCK TURKEY should be at the center of the table!  Perfectly seasoned and oh so juicy and tender; you may never ever go back to your old ways.  In this post we will talk about how to spatchcock, why I like cooking a turkey like this, and we will briefly talk about brining.  This recipe will also have the instructions on oven cooking in case you do not have a smoker!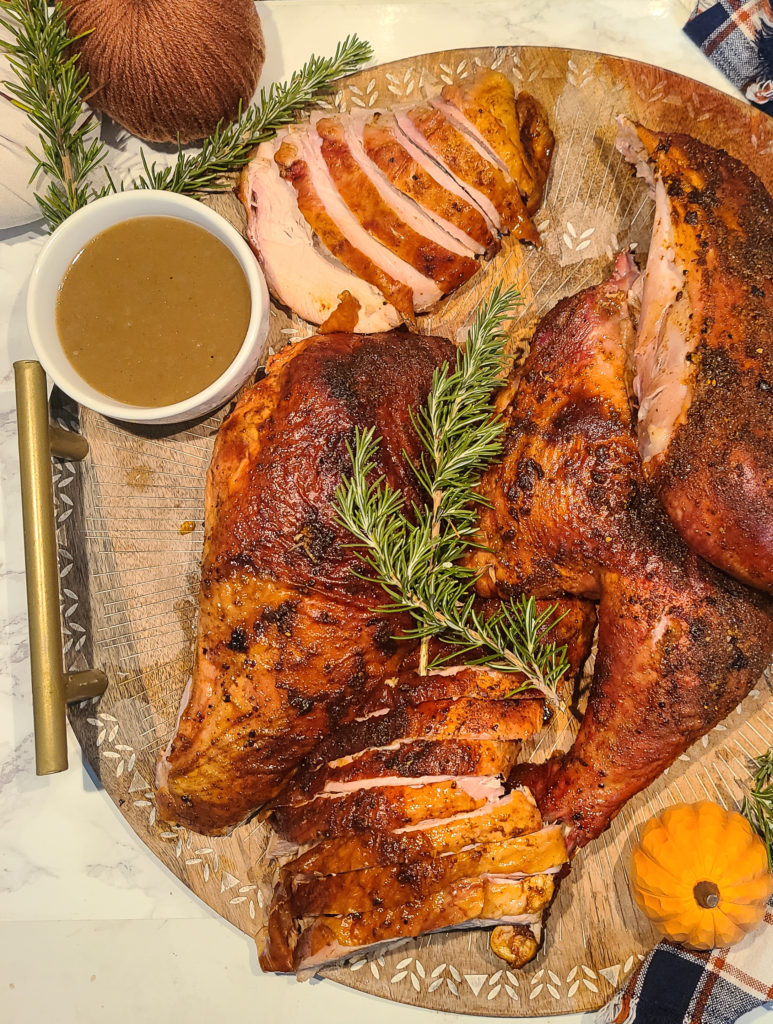 We all know there are a handful of different ways you can cook up a turkey.  In fact, I have 2 recipes HERE and HERE if you are looking for something else!  But I'm gonna let you in on a little secret.  This Smoked Spatchcock Turkey wins it all and this is why!
 I love spatchcocking turkey (or even chicken) because it not only cooks faster, but it cooks very very evenly because you have flattened the bird out.  To spatchcock a turkey, you simply take kitchen sheers (make sure they are sharp), cut along the sides of the backbone to remove it.  Flip the turkey over and press down firmly onto the breast plate to break it.  Your turkey should be flat-ish now.  The legs and thighs should rotate easily to also lay flat which you can see in the picture below.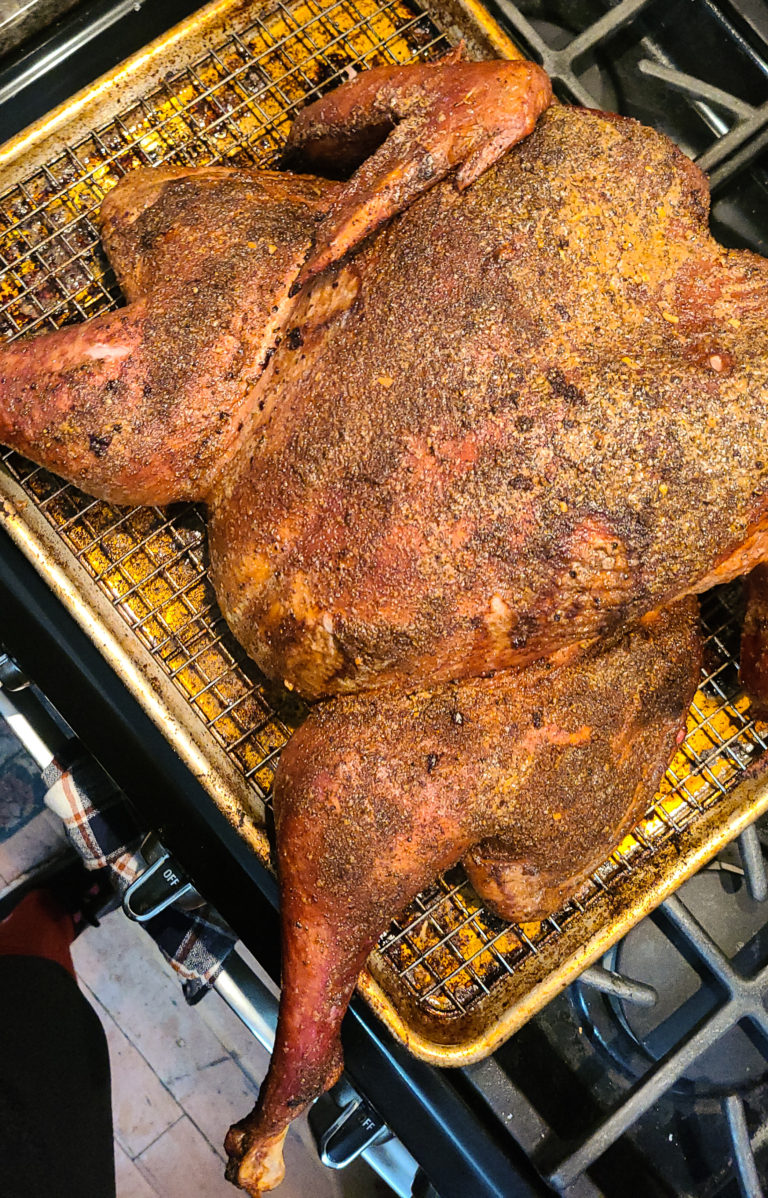 It's that simple!  You can do this before or after you brine.  It is all up to you.  I personally like to "dry brine" my smoked spatchcock turkey because I think it makes for a more delicious turkey.  You can read all about my brining method HERE  
   Once you have spatchcocked your turkey the next step is to get it ready to go into the smoker…or oven if that is the way you want to go.  Both methods you will need to put  it on a baking sheet with a wire rack.  I love making a compound butter, going under the skin, and rubbing the meat down with it.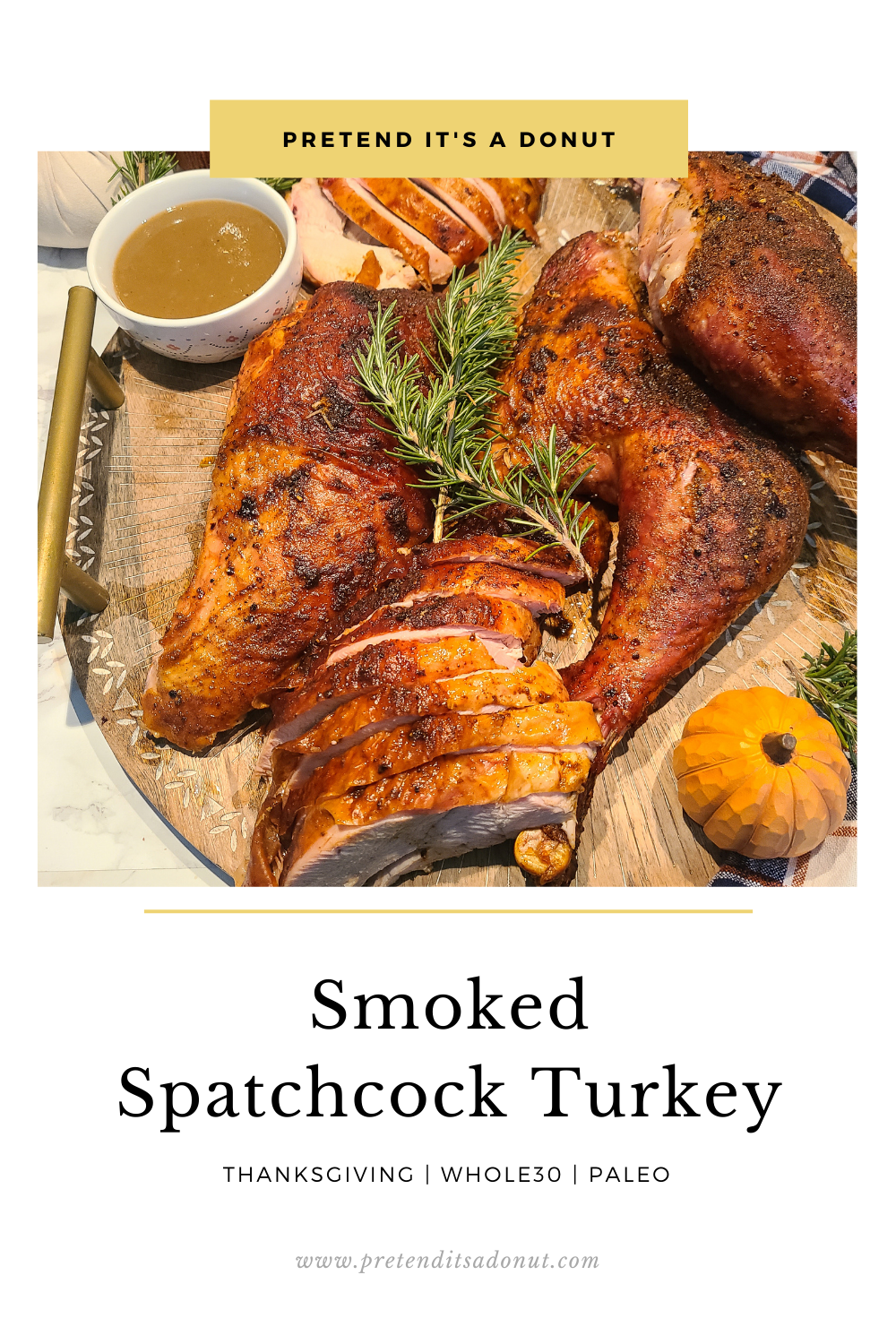 Print
SMOKED SPATCHCOCK TURKEY
Prep Time: 20 minutes
Cook Time: 2 hours
Total Time: 2 hours, 20 minutes
Ingredients
1 whole turkey
Drizzle of avocado oil or extra virgin olive oil

COMPOUND BUTTER:

2 sticks of softened unsalted butter (or ghee)
2 cloves of garlic, minced
1 tsp sea salt
1 tbsp dried rosemary
2 tsp dried thyme

HERBED SEASONING:

2 tbsp dried rosemary
2 tbsp dried thyme
1 tbsp red chili flakes
4 tbsp sea salt
1 tbsp garlic powder
2 tsp ground pepper
2 tsp smoked paprika
Instructions
Prepare your softened butter by mixing all the compound butter ingredients together. Set aside while you prepare the turkey.
Pat the turkey dry with a paper towel and place on a baking sheet with a wire rack on it. Take kitchen sheers and cut alongside the backbone and remove it. Flip the turkey over and firmly press on the breast bone until it breaks. This will flatten the breasts.
The thighs and legs should easily move and flatten out.
Loosen up the skin, take the butter you had set aside and rub it generously under the skin and directly onto the meat.
Next take your oil and rub it all along the skin. Take the herbed seasoning mixture and pour all over the turkey making sure you are getting in all the nooks and crannies.

SMOKER METHOD:

Turn smoker to 275 degrees F.
Place the turkey onto the smoker and let it smoke until internal temperature reaches 115 degrees F.
Take the juices that are collecting in the pan, suck the juices up with a baster and squeeze all over the turkey. This will help the skin get nice and crispy.
Up the smoker to 325 degrees and cook until the internal temperature reaches about 158 degrees F, basting 2 more times throughout the cook.
Once you have reached temp internally, remove and let rest for 15-20 minutes.
Carve and enjoy!

OVEN METHOD:

Turn oven to 300 degrees F. Place turkey on lower rack and let cook until internal temperature reaches 100 degrees F.
Baste your turkey by sucking up the juices gathering on the sheet pan and then pouring onto the turkey.
Turn your oven up to 375 degrees and cook until internal temperature reaches about 158 degrees F, basting 2 more times during the cook.
Remove from the oven, let rest for 15-20 minutes, carve and enjoy!
Notes
Your turkey will continue to "cook" after it has been removed from either the smoker or oven. If you cook it until internal temperature reaches 165 you will have a VERY dry turkey. No gravy will be able to save that!!
   A couple things to note:
  I never go by time when it comes to cooking a turkey.  Give yourself at least 2 hours.  Your internal cooking temperature is what you are looking for.  I love my MEATER probe if you are looking for a good temp probe.  You can access everything on your phone and its wonderful!
  If your wings start to get a little too dark for your liking, just wrap in foil.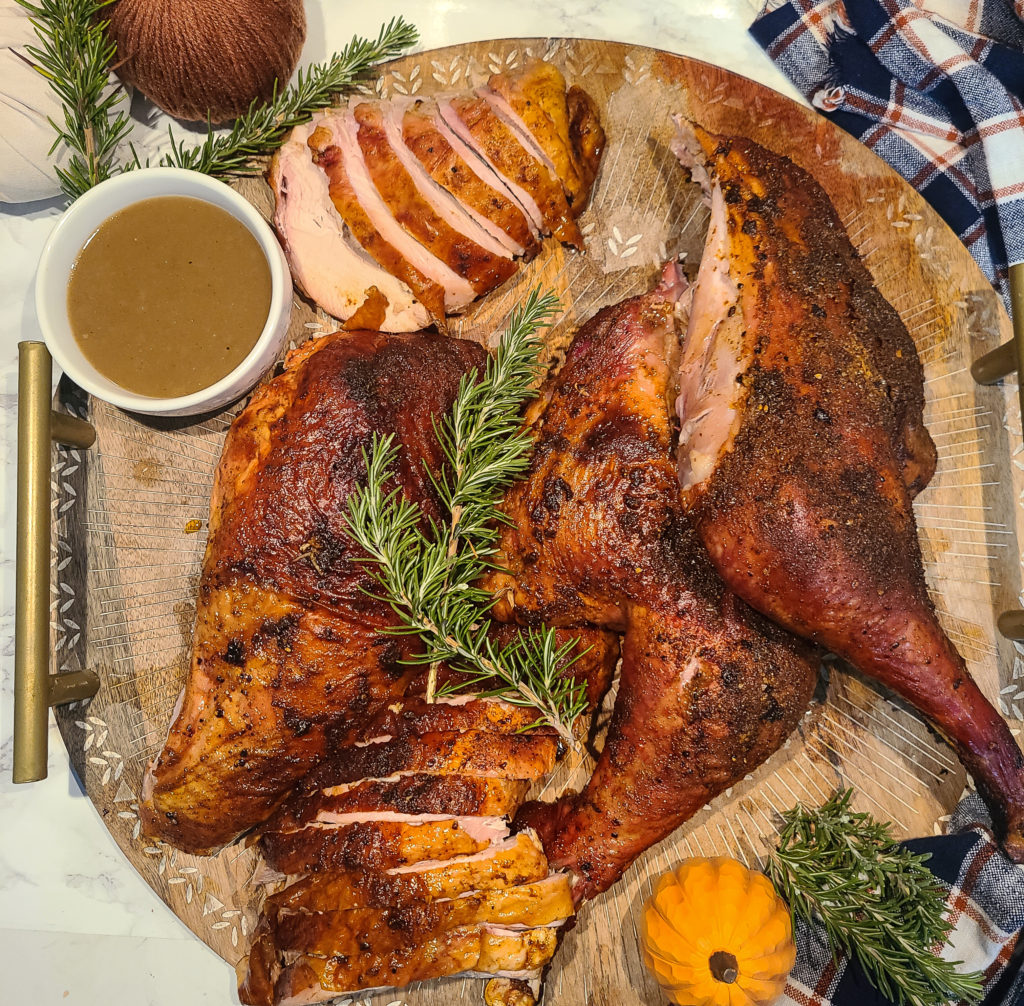 I hope you enjoy this smoked spatchcock turkey as much as we do! 
The post SMOKED SPATCHCOCK TURKEY appeared first on Pretend it's a Donut.