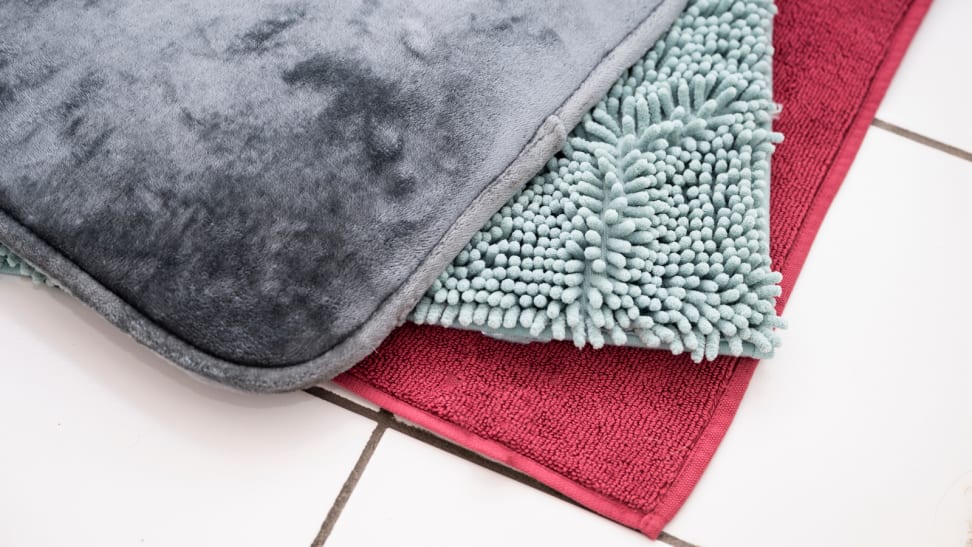 — Recommendations are independently chosen by Reviewed's editors. Purchases you make through our links may earn us a commission.
When it comes to bath mats, no two are the same. While some prefer style over function, most can agree that there's nothing worse than stepping out of a shower onto a damp bath mat. But with so many options, which one do you choose? That's where we come in. We tested the best bath mats available today.
After countless showers and hours spent sopping up puddled water, the Frontgate Resort Bath Mat (available at Frontgate) is our top pick. Not only is it incredibly soft and absorbent, but it also dries fairly quickly. If you're looking for a more budget-friendly option, we recommend the H. VERSAILTEX Shag Bathroom Mat (available at Amazon). It's affordable, comfortable, and matches most bathrooms.
These are the best bath mats we tested ranked, in order:
Frontgate Resort
H. VERSAILTEX Shag Bathroom Mat
The Company Store Estate Legends Luxury Cotton Bamboo Bath Rug
Charlton Home Broadbent Plush Rectangle Memory Foam Non-Slip
Momentum Home Shag
ITSOFT Non-Slip Chenille Runner
Gorilla Grip Original
Kassatex Cobblestone
Bed, Bath, and Beyond Smart Dry Memory Foam
ToiletTree Products Bamboo
Vdomus Microfiber Shag Bath Rug
Magnificent Large Non-Slip Memory Foam
Urban Outfitters Peachy Clean
Genteele Memory Foam
Amazon Basics Banded
LL Bean Egyptian Cotton
Gorilla Grip Memory Foam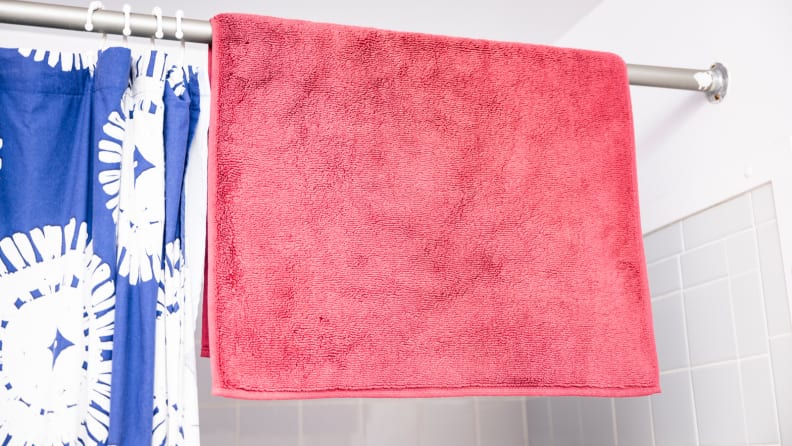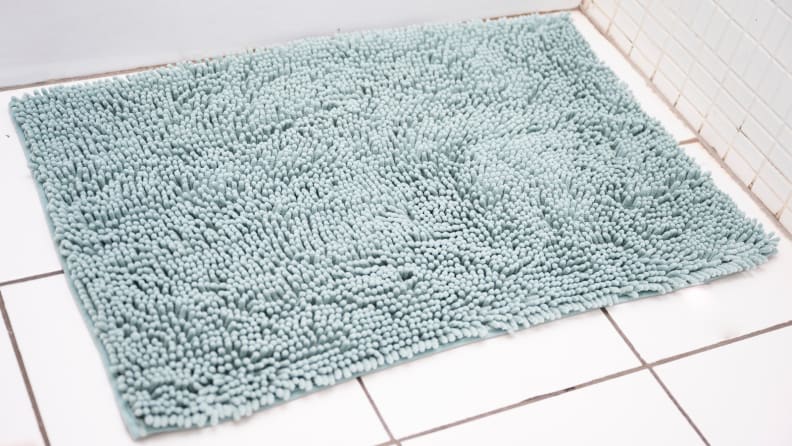 How We Tested Bath Mats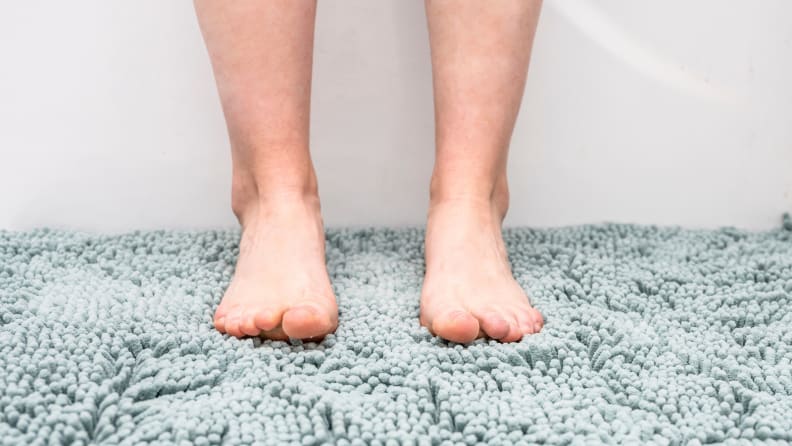 The Tester
Hi, I'm Cailey, the Updates Staff Writer on the Product Roundup team here at Reviewed and a new homeowner. I have mixed feelings about the subpar bath mat we purchased. While it's a nice color and cushy on my feet, it collects water easily and is always damp, even in between my daily showers. So, instead of just trying to go out and buy a new one, I was intent on updating this guide to find the very best bath mats available today. Bath mats weren't something I invested in before becoming a homeowner, but now that I have a stand-up shower with no tub to catch splashes, a subpar bath mat simply won't do.
This guide was first written by Kori Perten, the former Home and Outdoors Editor at Reviewed. She spent too many years standing on gross, thin mats after her daily shower, prompting her to write this guide.
The Tests
For testing, each mat was used in conjunction with two showers a day. In addition to noting how each mat felt as we stepped on it, we weighed the mats before and after showering to see how much water weight they took on. We then hung the mats to dry, checking at the four-hour mark to see if they were still sopping wet or only moderately damp.
To gauge absorbency, we poured a cup's worth of water on each mat. After about 10 seconds, we picked up the mat to see how well it had soaked up the puddle. For the last step, we washed the mats in a washing machine (with the exception of the bamboo ToiletTree Bath Mat) and checked if it had any effect on shedding or pilling.
What You Should Know About Buying a Bath Mat
Bath mats come in three main categories: Woven, wooden, and memory foam. Synthetic mats typically dry easier than cotton mats if you decide you want a woven product for your bathroom. Cotton is not without its perks, as it is often absorbent and can hold up in the wash. Wooden mats intended to last with minimal care, and are an entirely different aesthetic from woven bath mats. Memory foam mats don't absorb water as well, but they are cushiony and more supportive on your feet than a typical woven bath mat.
Make sure to measure your bathroom before you go shopping because the bath mats size matters. The perfect mat fits nicely in front of the sink or next to the tub, with enough room for your bathroom door to open and shut. Some of the taller mats can block the movement of the door, so be thoughtful about placing taller mats further away from the door, or about choosing thinner mats.
What else goes into a good bath mat? It will be able to absorb spills or drips while staying dry between showers. They are also affordable and come in many different colors and styles to best match your home. Everything else just boils down to personal preference.
Washing Your Bath Mat
It is important to have a bath mat that is machine washable. Every bath mat we tested could go in the washing machine, but it's important to check the washing instructions first. Run your bath mat on a delicate cycle with hot water to kill any bacteria. Overstock suggests throwing bath towels in the dryer with your bath mat for extra protection.
When Should I Replace My Bath Mat?
Bath mats are the perfect breeding ground for bacteria, so it's important to replace it every two years (as long as you're washing it regularly). While incredibly soft and machine washable, cotton bath mats and rugs need to be washed frequently to keep them sanitary. However, consistent washing may cause pilling. A bamboo bath mat, on the other hand, can last you many years without a single machine wash.
Do Bamboo Bath Mats Absorb Water?
Bamboo mats don't absorb much water, so it's unlikely that you'll slip coming out of the shower. So if you don't want to be washing your bath mat often, a bamboo version may be the way to go. Aside from the cleanliness benefits, they're aesthetically pleasing and add a calming flair to your bathroom. The only downside is they can grow mold over time, as they're typically in a humid environment. Take care to check for any mold on your bamboo bath mat. The wood will rot eventually, so don't plan on owning one forever.
Bath Mats vs. Bath Rugs
Bath mats are actually different from bath rugs. A mat is more functional than a rug. The purpose of a bath mat is to keep you from slipping once you step out of the shower. Meanwhile, bathroom rugs are often cozier and more attractive. For extra slip protection, rubber mats can be purchased for a specific use inside a bathtub or shower.
---
Other Bath Mats We Tested
More Articles You Might Enjoy