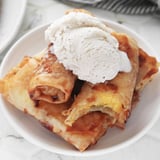 If you're looking for new foods to diversify your snack game, try making turon, a traditional Filipino treat. It's a deep-fried sweet lumpia, or spring roll, that's filled with ripe bananas and coated in caramelized brown sugar. You can also fill the rolls with jackfruit, aka "langka" in the Philippines, for even more flavor. Meanwhile, the wrapper, which is thin and similar to a crepe, becomes deliciously crispy when fried - resulting in a mouthwatering treat.
Turon traditionally calls for saba bananas, or mini plantains, but regular plantains work just as well. The latter might be easier to find at your local supermarket, but if not, you can use standard bananas. As for the other ingredients? You can find lumpia wrappers, often labeled as "spring roll pastry," in the frozen section of Asian or Filipino grocery stores. The same goes for jackfruit in syrup, which is available in cans and jars. Just be sure to buy the ripe jackfruit in syrup - not young jackfruit in brine, which is commonly used as a meat substitute in vegan dishes.
As a Filipino American, the taste of turon brings me back to my childhood. The combo of warm, sweet bananas encased in a crunchy, sugary wrapper brings me back to my grandfather's bukid (farm) in the Philippines where my relatives made turon with bananas that were just picked from the tree. These days, I have a newfound appreciation for the snack, as it's the perfect example of a sweet and simple treat. I love it - and I hope you do, too!
Turon (Filipino Fried Banana Rolls)
Original Recipe
Notes
You can find lumpia (spring roll pastry) wrappers and jackfruit in syrup at Asian or Filipino grocery stores. Depending on the brand of lumpia wrappers, one package might contain 25 or 30 sheets. If you'd like to use the extra wrappers, you can double this recipe. Alternatively, you can save the wrappers for another batch by wrapping them in a damp (not wet) paper towel and storing them in the refrigerator in an airtight container. For best results, use the wrappers as soon as possible.
Ingredients
3 ripe plantains
1/2 cup sliced jackfruit in syrup (optional)
3/4 cup brown sugar, plus more as needed
12 lumpia (spring roll pastry) wrappers
Vegetable oil, for frying
Cold water, for sealing wrappers
Vanilla ice cream, for serving (optional)
Directions
Peel the plantains. Cut each plantain in half, widthwise, then cut each piece lengthwise to yield four pieces. Repeat with the remaining plantains.
Transfer the brown sugar to a shallow bowl or plate. Roll a piece of plantain in the brown sugar.
Carefully peel apart the lumpia wrappers. Set one wrapper on a flat surface so two corners are pointing up and down, creating a diamond shape. Add a piece of sugar-coated plantain, then top with a few slices of jackfruit, if using.
Fold up the bottom corner, tucking it against the plantain.
Fold the left and right corners toward the center, creating an envelope. The corners will overlap.
Dab a bit of cold water along the top corner and edge.
Starting from the bottom, roll up the turon. Gently press the top corner to seal. Repeat with the remaining filling and wrappers.
In a pot, add about 1/2 inch oil over medium heat. Once the oil is hot, add a spoon of brown sugar to the oil (you can just eyeball this part). Once the brown sugar becomes dark and floats to the top, use tongs to add a few turon in a single layer.
Fry for 3 minutes, flipping once halfway, or until golden brown and coated with caramelized brown sugar.
Using tongs, place the turon on a wire rack on a baking sheet or a paper-towel-lined plate. Let cool slightly, as the turon will be very hot.
Serve warm on its own or with vanilla ice cream.
Information
Category

Desserts

Cuisine

Other Asian

Yield

12 turon

Prep Time

15 minutes

Cook Time

15 minutes

Total Time

29 minutes, 59 seconds