This is the best vegan vanilla cake! A simple sponge cake is layered with luxurious vegan buttercream frosting. It's elegant, classic, and unbeatable for birthday celebrations.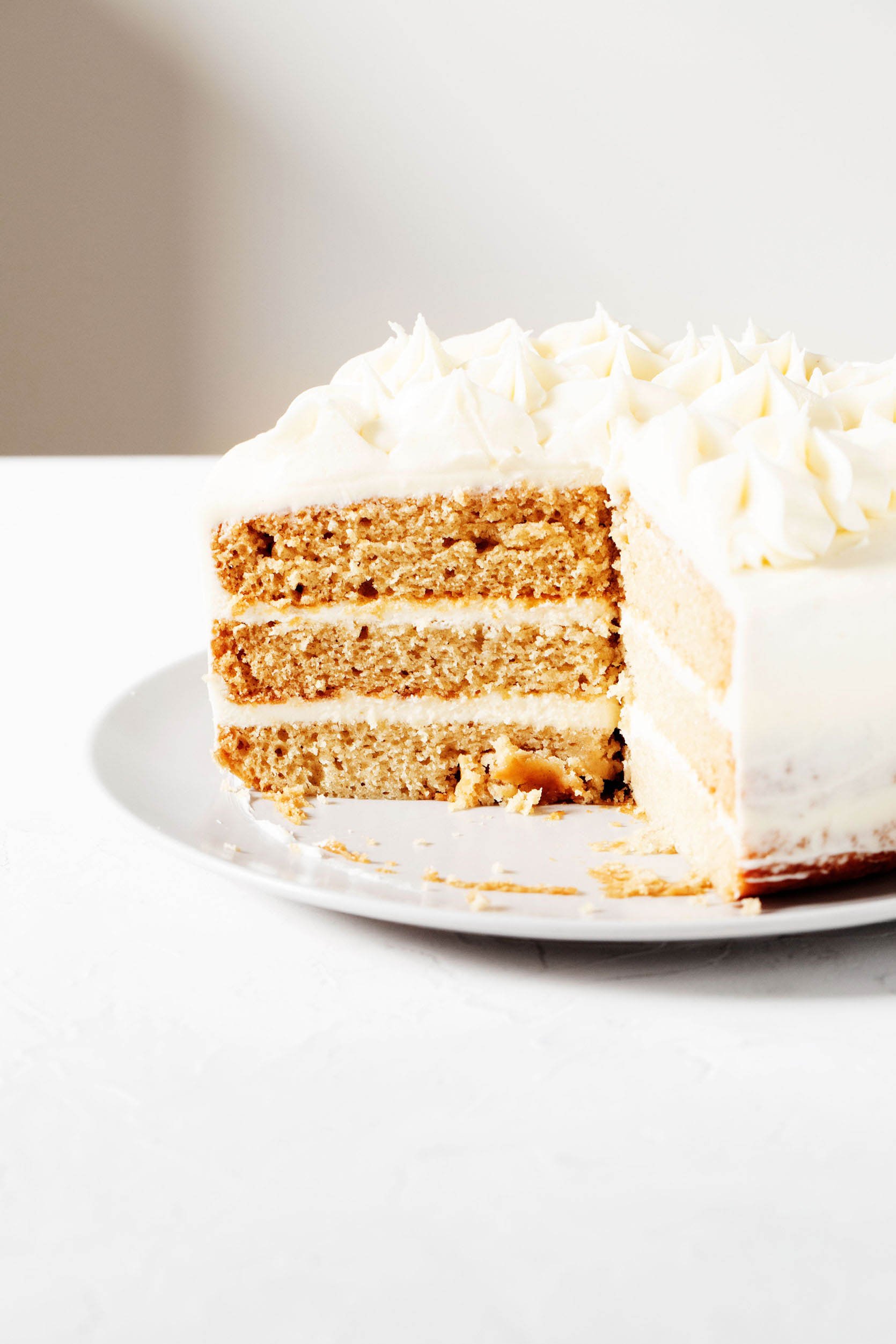 With a birthday just behind me, I've had vegan cake on my mind more than usual! This vegan vanilla cake is perfect for birthdays. It's also a classy, elegant layer cake that can be part of any celebration or special event.
With the exception of whatever decorations you're into, this cake is frill and fuss-free. Three layers of simple vanilla sponge cake and sweet, rich vegan buttercream frosting. That's it.
I love the scent and taste of vanilla and have never thought of vanilla desserts as being inferior or less memorable than chocolate or other flavors. True to its name, this vegan vanilla cake smells and tastes strongly of vanilla, in the best of ways.
What's in vegan vanilla cake?
Vegan vanilla cake is vanilla cake prepared without eggs, milk, or butter.
In place of milk, I use non-dairy milk in the recipe—soy, oat, almond, and cashew are my favorites for baking. There's no butter in my vanilla sponge cake. Instead, I use avocado oil, which could be substituted with another neutral-flavored vegetable oil.
There's plenty of vegan butter in the frosting—it's the main ingredient! You can use any stick form of vegan butter. I usually use Earth Balance, which is relatively inexpensive and works well in the recipe.
And what about replacing egg?
Honestly, I often find that replacing egg is unnecessary in vegan baking. Flax egg and aquafaba work wonders in some recipes, but they're not needed in others. I find this to be especially true of quick breads, muffins, and some cakes—including this one.
How to make vegan vanilla cake
The cake in this vegan vanilla cake is a tried and true recipe. I use it in my strawberry shortcake, which is a favorite summer recipe. So I've made it many times, to the point where I almost have the proportions memorized.
To make the cake itself, you whisk together dry ingredients, mix and add wet ingredients, combine, and bake. It's a loose batter, and it'll smell wonderfully of vanilla even before it goes into the oven.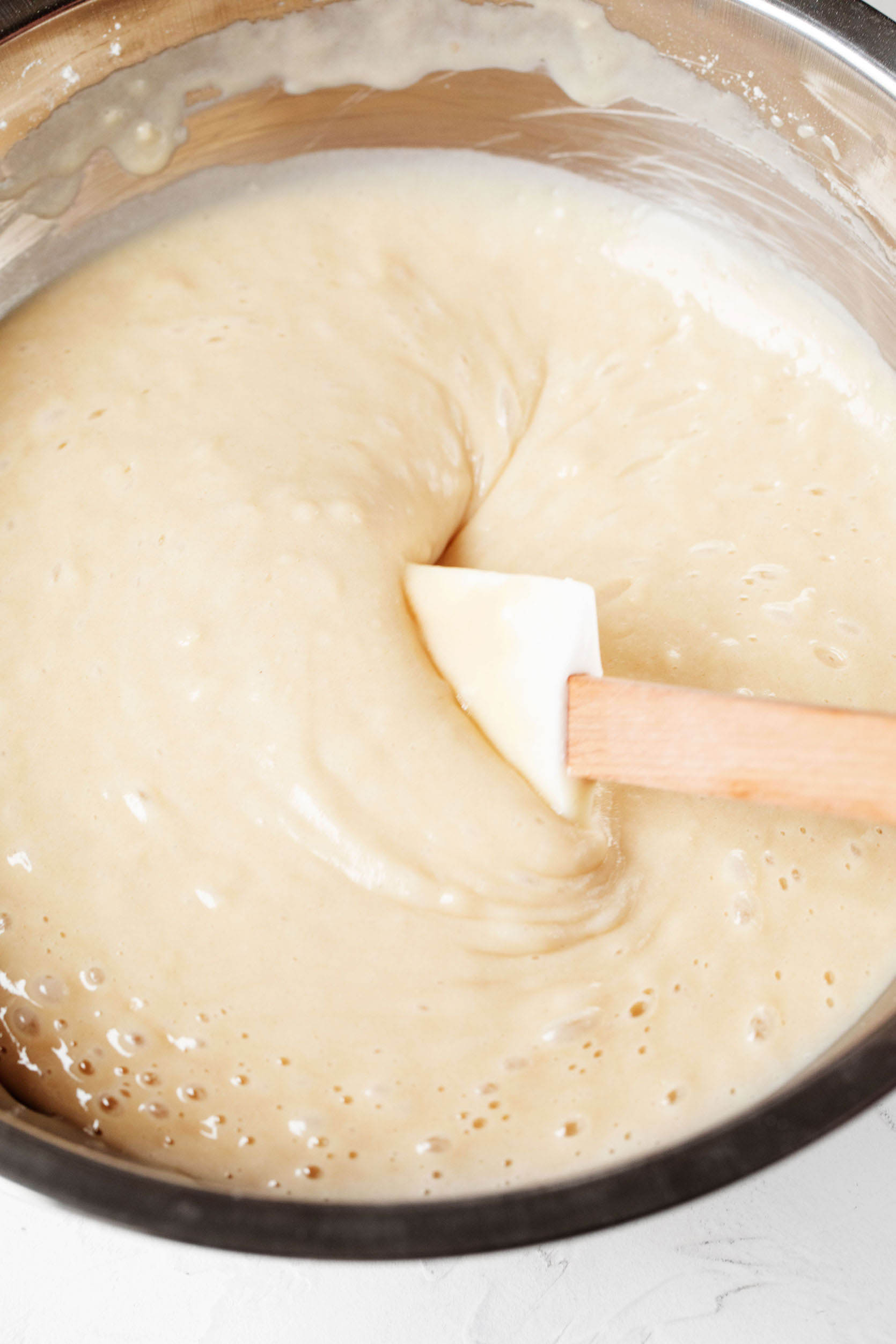 This is a three layer cake. You can bake it in 8-inch or 9-inch, round cake pans. These are the ones I use, and I always line the bottom with a round of parchment paper.
If you prefer, you can bake the cake in a 9 x 13-inch rectangular baking pan, turning it into a sheet cake instead of a layer cake.
Once the vegan vanilla cakes have baked and cooled, it's time to decorate.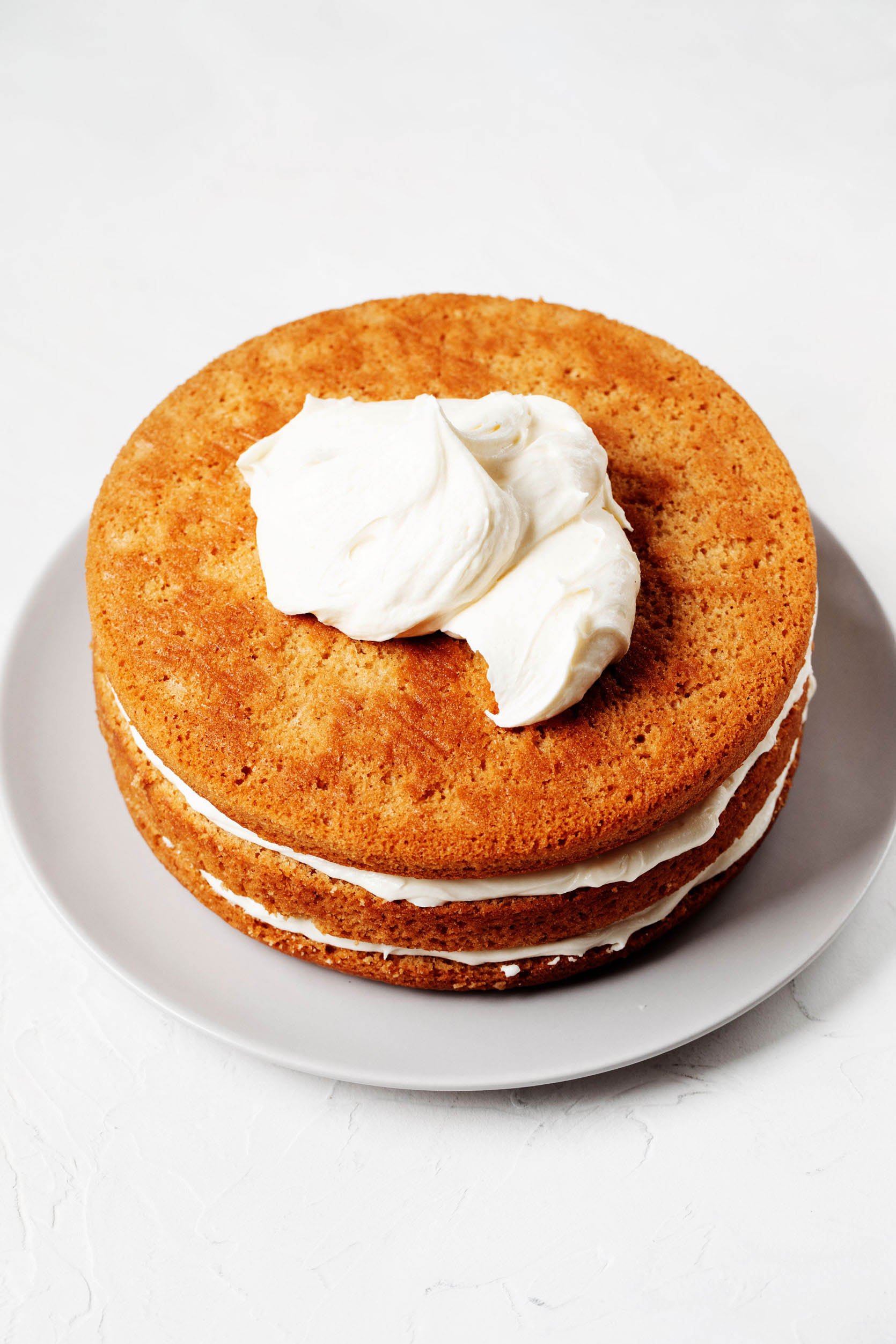 Whenever I make a layer cake, I like to trim and level my cake rounds. It makes the cake more even in shape, and it also helps the crumb coat of frosting to stick to the cake.
Speaking of, the "crumb coat" is the first, thin layer of frosting that goes on the cake. You apply it, then refrigerate the cake for about thirty minutes. Once the coat gets cold, it's much easier to frost and decorate the rest of the cake.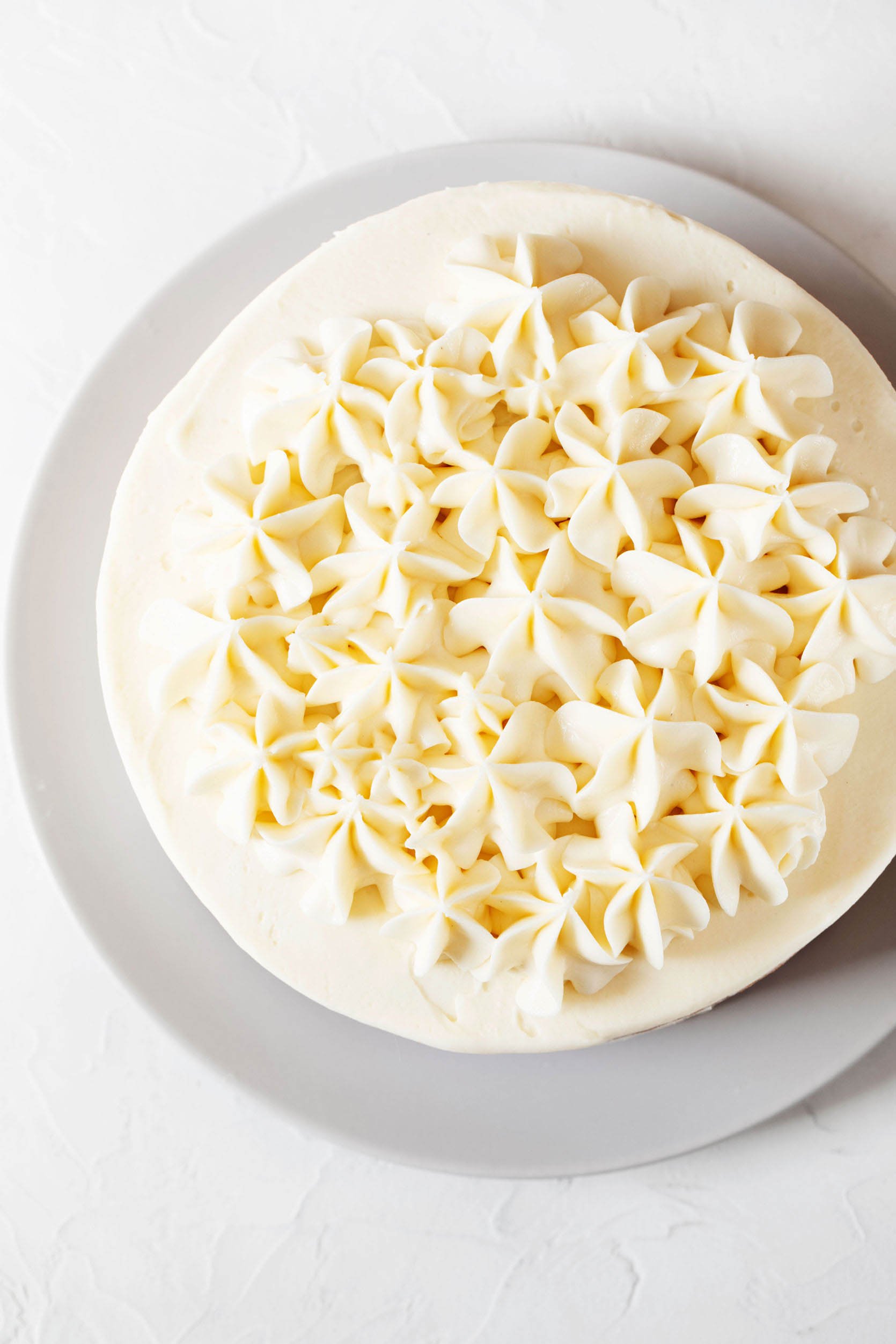 You can make your cake decorations as simple or as complex as you like. I often frost layer cake and leave it just the way it is. It can also be fun to use a piping bag to make star shapes, flowers, swirls, or whatever you like.
The best flour for vegan vanilla cake
For the best, fluffiest, lightest results, I recommend using either cake flour or a homemade substitute—unbleached, all-purpose flour mixed with cornstarch—for your vegan vanilla cake.
Cake flour has less protein than all-purpose, which means that it develops less gluten in baking. It yields a tender, fluffy, moist crumb, which is perfect for cakes.
While I've had really good results making my vanilla cake with both all-purpose flour, I have to admit that cake flour really does yield a more delicate crumb! When I use it, I notice a difference—though it's always hard for me to justify making space for yet another type of baking flour within my limited pantry space.
If you'd like to achieve the results you'd get from cake flour without actually purchasing cake flour, you can use a mixture of all-purpose flour + cornstarch.
The rule of thumb is to subtract two tablespoons of AP flour from each cup of flour called for in the recipe, replacing them with two tablespoons of cornstarch. For this recipe, I recommend three cups + two tablespoons of all-purpose flour and six tablespoons of cornstarch.
And if all of this sounds like too much to worry about, don't worry 😉 All purpose flour will be fine.
Can the vegan vanilla cake be gluten free?
This cake can be made gluten free. I recommend using a gluten-free, all-purpose flour blend, rather than a single type of gluten-free flour (such as almond or oat flour).
My favorite gluten-free, all-purpose flour for baking is King Arthur's Measure for Measure. I use it in my cake recipes whenever I'm baking for a GF friend, and it works really well.
How to make vegan buttercream frosting
The trick to decorating the vegan vanilla cake is, of course, a good frosting. The frosting for this recipe is simple buttercream, made with vegan butter, powdered sugar, and non-dairy milk. I make it in my stand mixer, but you can also use a handheld mixer to whip the frosting into light, airy perfection.
One thing I did differently than usual when I made this cake was to sift the confectioners sugar before using it. It's a step that I've skipped in the past, but it makes such a difference! I've always had little clumps in my frosting, because I've always been too lazy to sift the sugar beforehand. Now I know how worthwhile it is.
If you have the patience, I really recommend sifting as instructed in the recipe. You can use a sifter if you have one (I have this one), or you can just use a sieve.
Can I replace the buttercream frosting?
I love both this buttercream frosting and my vegan cream cheese frosting. I use them to decorate a majority of the cakes and cupcakes that I make for birthdays and other special events. Some people find these kinds of traditional frosting a little too sweet, which I understand.
If you'd like an alternative to the buttercream in this vegan vanilla cake, you could try doubling my creamy cashew frosting. You can also make a vanilla cake with chocolate frosting instead, using a double batch of my chocolate avocado frosting. The chocolate pumpkin frosting that I use with these raw vegan brownies is also really good.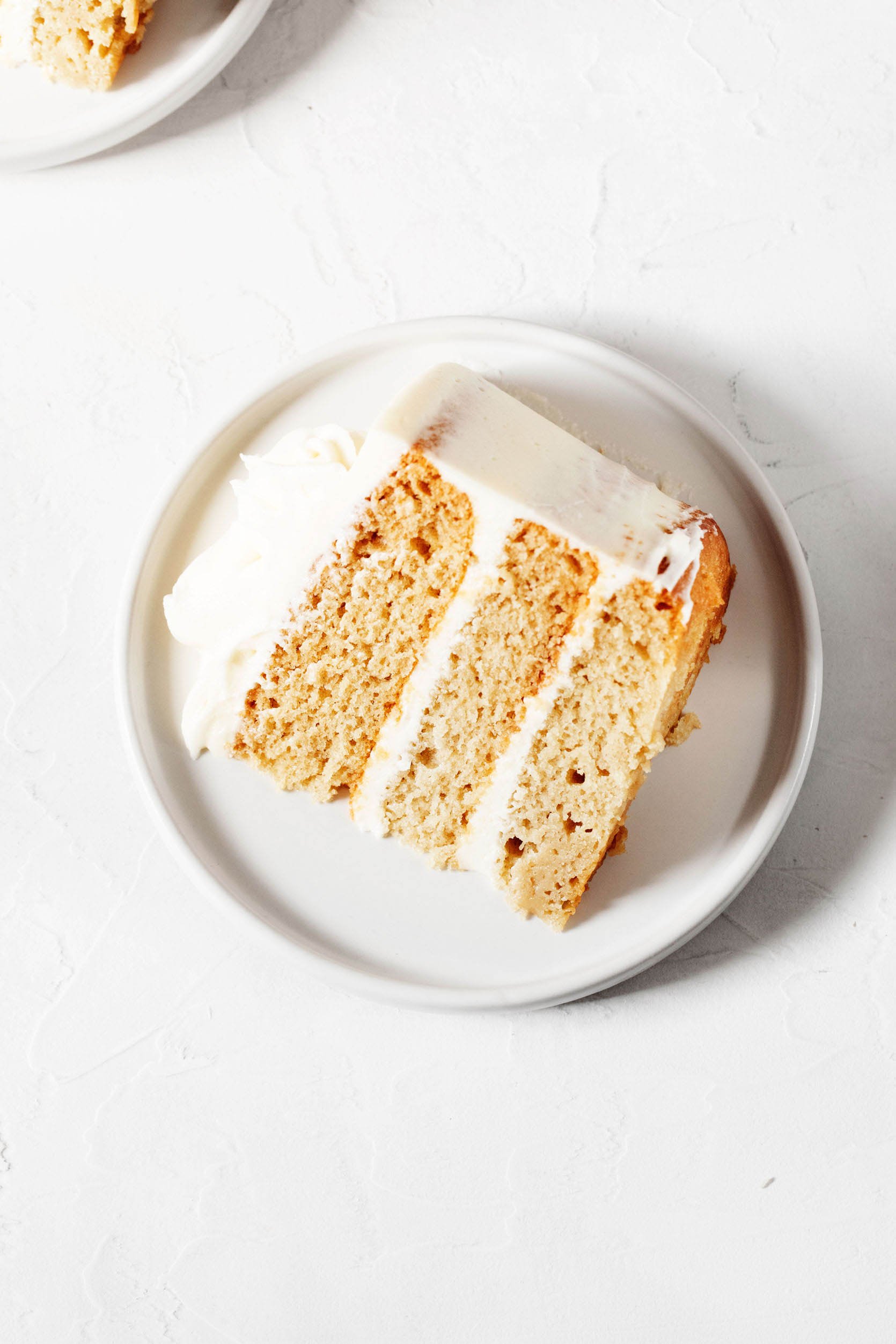 Storing vegan vanilla cake
The buttercream frosting helps to keep the vanilla cake moist for about two days at room temperature if your home space is cool. If not, I recommend storing the cake in the fridge, as the frosting can easily get melty.
I store the cake with a light layer of Saran wrap over it. The wrap shouldn't be tight enough to damage the decorations; just a loose, gentle layer to provide protection.
In my home, there's only ever one of me and there's often quite a lot of cake. I freeze leftover slices so that they stay fresher, longer. The texture of the vegan vanilla cake will be more tender if you freeze the cake after a few days, rather than letting it sit in the fridge for more than 3-4 days.
I usually freeze leftover cake one slice at a time, so that I don't have to defrost more than I need.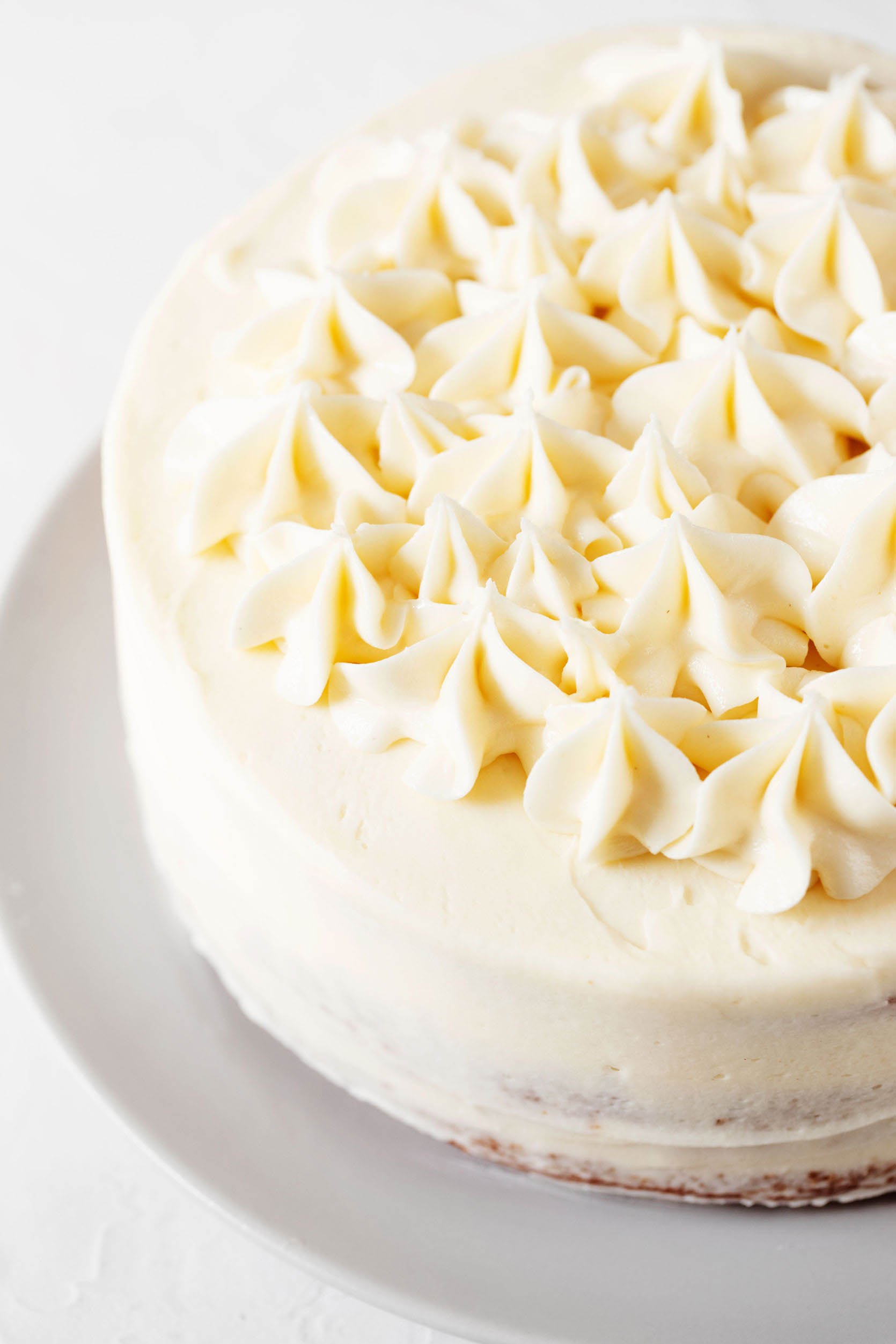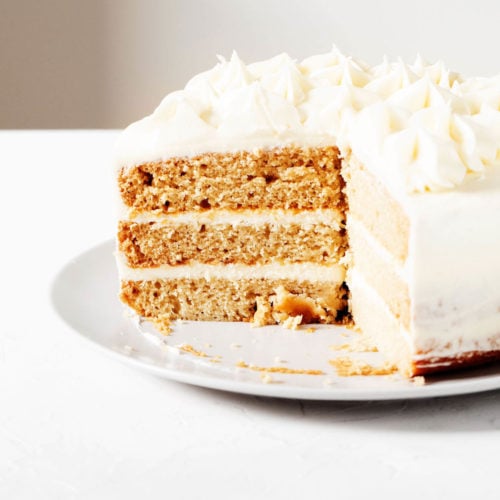 Print
Vegan Vanilla Cake
This is the best vegan vanilla cake! A simple sponge cake is layered with luxurious vegan buttercream frosting. It's elegant, classic, and unbeatable for birthday celebrations.
Diet
Gluten Free, Low Lactose, Vegan, Vegetarian
Cooling and decorating time
3
hours
Total Time
3
hours
35
minutes
Ingredients
Vegan vanilla cake
3 1/2

cups

cake flour or 3 cups + 2 tablespoons all-purpose flour mixed with 6 tablespoons cornstarch* (448 g cake flour or 375 g all-purpose flour + 48 g cornstarch)

2

teaspoons

baking powder

1

teaspoon

baking soda

1

teaspoon

salt

1 3/4

cups

oat, soy, almond, or cashew milk

1

tablespoon

white vinegar

1 3/4

cups

cane sugar

(336 g)

1/2

cup

avocado oil

(or another neutral vegan cooking oil)

1

tablespoon

vanilla extract
Vanilla buttercream frosting
3

sticks

vegan butter, at room temperature

(336 grams)

5

cups

sifted confectioners sugar

(600 g)

1/4

teaspoon

Kosher salt

(or 1/8 teaspoon fine sea salt)

1 1/2

teaspoons

vanilla extract

2

tablespoons

oat, soy, almond, or cashew milk

2

teaspoons

white vinegar
Instructions
To make the cake, preheat your oven to 350F. Butter or spray with oil three 8-inch or 9-inch round cake pans. Line the pans with parchment paper rounds.

Add the flour, baking soda, baking powder, and salt to a large mixing bowl. Mix to combine.

In a separate mixing bowl, add the non-dairy milk and vinegar. Allow them to sit for a few minutes. Then, add the sugar, vegetable oil, and vanilla extract. Whisk the wet ingredients together until they're mixed.

Pour the wet ingredients into your dry ingredients. Use a spatula to fold everything together. Avoid any streaks of flour, but little clumps in the batter are OK. Pour the batter as evenly as you can into the three cake pans. Bake the cakes for 25-30 minutes, or until golden brown at the edges and set in the center.

Transfer the cakes to a cooling rack. After 30 minutes, remove the cakes from their pans (I like to use pans with a removable bottom—it makes this step easy). Cool the cakes on the cooling rack until they are completely cool, at least a couple hours.

To make the frosting, place the butter in a stand mixer fitted with the paddle attachment. Mix on medium speed for 2 minutes, or until the butter is fluffy. Stop the mixer, then add the sugar. Cover the mixer with a tea towel. Mix the frosting on low speed for 2 minutes. Remove the tea towel and add the salt, vanilla, and non-dairy milk. Beat on medium speed for another 3-4 minutes, or until the frosting is very fluffy again. Beat in the white vinegar, then stop the mixer.

Trim the tops and sides of the cakes to make them even for frosting if you wish. (If you do this, save the scraps for crumbling onto fruit, vegan yogurt, or ice cream, or just for snacking.) Place one layer of cake onto a cake stand and cover the top with frosting (about 1 cup). Place another layer on top and frost. Add the final layer of cake and frost it. Proceed to frost sides, maintaining a thin layer of frosting to start with—this is your crumb coat. Refrigerate the cake after the crumb coat application for 20-30 minutes. 

Use the rest of the frosting to cover the entire cake, making some nice swirls as you go. Make any additional decorations you like. Slice and enjoy your cake!
Notes
In place of either cake flour or an all-purpose flour + cornstarch mix, you can use all unbleached, all-purpose flour: 3 1/2 cups (420 g).
In 2020, when quarantine was fully underway, I walked one of my carrot cakes to my mom's apartment. I handed it to her in the lobby of her building, my hands clad in nitrile gloves. Later that evening we ate slices of cake together on Zoom.
It is such a joy to now be able to share cake, my all-time favorite dessert, with my loved ones again. This vegan vanilla cake was made to be sliced and shared and cherished on special days. But as I make my way through the leftovers in the wake of my birthday, I can also tell you that it's a lovely treat to have around and enjoy solo.
No matter how you serve it, I hope you'll love it.
xo
The post Vegan Vanilla Cake appeared first on The Full Helping.