— Recommendations are independently chosen by Reviewed's editors. Purchases you make through our links may earn us a commission.
The LG LDP6810SS (available at AppliancesConnection for $795.00) dishwasher is a great example that what you see (in marketing materials) is not always what you get. LG has packed a number of frills into this affordable dishwasher. While some of these extras, with names like Quad Wash, True Steam, Dynamic Dry, and EasyRack Plus, do provide some good functionality, some don't live up to the hype. When we tested the LG LDP6810SS in our lab, we found it worked fairly well on the Heavy cycle, but outside of this cycle, the LDP6810SS is largely sub-standard, offering below average cleaning and long cycle times. Are these issues insurmountable? No, of course not—with the right settings and knowledge of its quirks, you can turn the LDP6810SS into a decent dishwasher. However, we also don't recommend going out of your way to get one; instead, we'd recommend the Beko DUT25401X.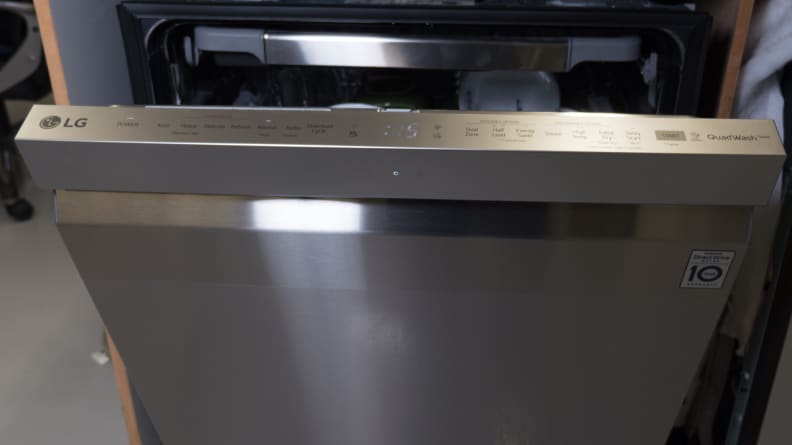 Grasping the LG LDP6810SS's pocket handle and cracking open the door will reveal its top-mounted controls. They're responsive and intuitive push buttons with clear labeling.
Inside is a standard setup with an additional third rack on top. The lower shelf can keep its cutlery basket on the left or in the rear, and the upper shelf can be repositioned vertically to allow for taller items above or below.
About the LG LDP6810SS dishwasher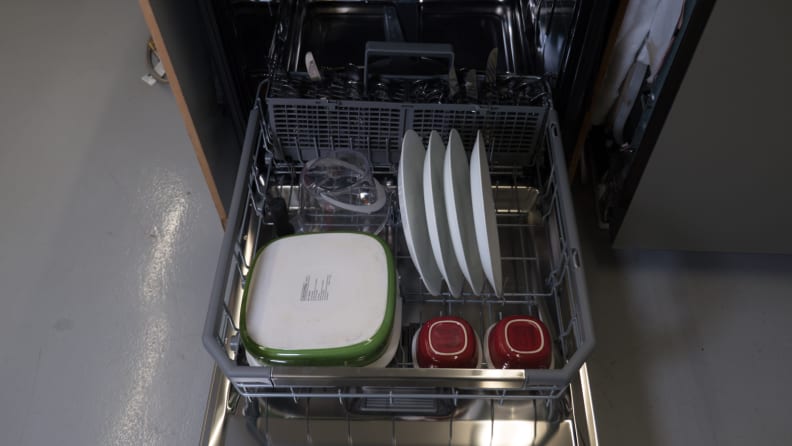 Dimensions: 33.6" x 23.8" x 24.6" (H x W x D)
Capacity: 15 place settings
Finishes: Print-proof stainless steel (LDP6810SS), black stainless steel (LDP6810BD, $50 extra)
Cycles: Auto, Heavy, Delicate, Refresh, Normal, Turbo, Download
Cycle options: Dual Zone, Half Load, Energy Saver, Steam, High Temp, Extra Dry, Night Dry, Delay Start
User manual: LG LDP6810SS dishwasher manual
What we like about the LG LDP6810SS dishwasher
The Heavy cycle and Steam feature provide solid stain-breaking power
During our testing, we were impressed with how well the Heavy cycle was able to bust through even difficult stains. Across the board, the Heavy cycle got every dish 100% clean, with the sole exception of our most difficult stain, of which it was still able to clean away 94%.
The Steam feature is also excellent, and elevated some of the dishwasher's underperforming cycles from duds to decent. We recommend switching this feature on and leaving it that way, as the performance increase is well worth the elevated energy consumption and cycle length.
Gets dishes dry and does a good job with plastics
LG claims that, with the Dynamic Dry system, "you can throw in the towel and stop drying by hand." If you're talking about ceramic dishes, this is an accurate claim. Even without the Extra Dry feature enabled, just about every dish was bone dry after a wash cycle.
Plastics, on the other hand, were often harboring small puddles, regardless of cycle. Turning on Extra Dry significantly helped in this instance, resulting in plastics with a lot less water sloshing around. While still damp, they were much more dry, which is better than many competing dishwashers can manage. If you tend to wash a lot of plastics, this is another setting we recommend leaving on.
Its extra features improve overall usability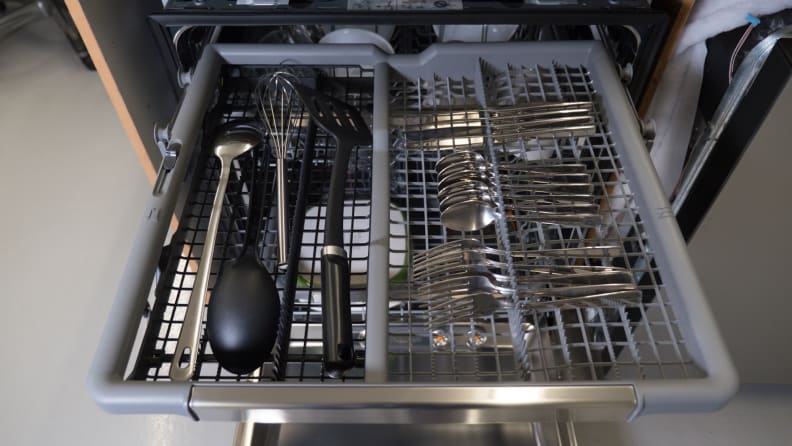 Increasingly standard, a third rack gives larger utensils like ladles and spatulas a better place to rest than the upper rack or cutlery basket. The LDP6810SS's adjustable upper rack allows you to accommodate taller items being stored on that rack or below it.
This dishwasher is also equipped with LG's smart platform, ThinQ. It will send a notification when a cycle is done, start a cycle remotely, or download additional cycles. LG's platform also keeps an eye on your smart device's diagnostic data, which can let you know about a potential problem, before it becomes costly to correct.
What we don't like about the LG LDP6810SS dishwasher
Every cycle except Heavy performs below average
LG claims that the QuadWash system can "get a spotless clean the first time," but this simply wasn't the case on the majority of our tests. If you're using the Heavy cycle with True Steam, then sure, it'll do a great job scrubbing away stains. However, once you venture outside of these settings, you'll find the LDP6810SS's first pass leaves plenty of spots.
The Normal cycle struggled to clean away some tougher stains, which is to be expected, but it also had issues with some less difficult challenges as well. Plus, it took longer than average to finish, and we saw evidence of redeposit—when food gets washed off one plate, isn't caught by the filter, and ends up washed back onto another plate.
The Turbo cycle was able to finish much faster—34 minutes, compared to an average quick cycle's hour—but dishes also came out sporting far more stains and bits of redeposit.
You can greatly improve the LDP6810SS's performance against certain stains by enabling the Steam feature. This takes the LDP6810SS's below-average results and boosts them up to about a B+ against certain stains, or a solid overall A in the case of the Heavy cycle.
Unless time is a factor, we recommend you regularly cleaning your dishes with the Heavy cycle when using the LDP6810SS.
The foldable tines fold a bit too easily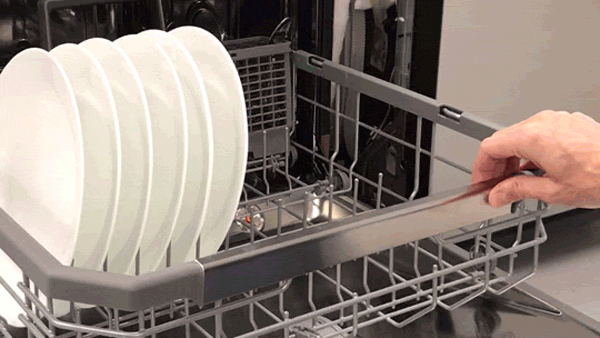 Typically, foldable tines are a good thing! They allow you more space to accommodate bulky and uniquely-shaped cookware. Unfortunately, the LDP6810SS's tines are a bit too eager to fold: Jostling the rack can cause them to suddenly collapse. Not only can this be dangerous for your dishes, it's also incredibly startling if you're not expecting it, as our lab staff can attest.

If you do get the LDP6810SS, be sure to take extra care when moving its upper rack.
What owners are saying about the LG LDP6810SS dishwasher
The LG LDP6810SS has an average of 4.2 stars out of 5 across major retailers, which is good, but not great. Users who love the LDP6810SS cite its adjustable racks, extra features, and overall cleaning capability. Users who are unhappy with the LDP6810SS claim that it was loud, slow, didn't dry dishes, and didn't clean as well as they were expecting. Again, while most of these pros and cons seem to be finding opposite results, this isn't necessarily contradictory based on what we saw in testing: If you don't have the right settings enabled, your experience with this dishwasher can be drastically different.
Warranty
LG's warranty extends to two years for parts, and one year for labor. The brand also provides extended coverage on certain parts: The control board and racks are covered up to five years, while the motor is guaranteed for 10 years.
This warranty goes far beyond the industry standard of a single year of coverage. When you buy an LG, you're making a decade-long investment.
Should you buy the LG LDP6810SS dishwasher?
No—it'll do in a pinch, but there are better options
The LG LDP6810SS is a more or less fine dishwasher for its price. Users will find that it is a pretty decent dishwasher when used with the right settings, and that you can learn to live with its quirks. The issue is, if you're in the market for a new dishwasher, why would you invest in one you need to "learn to live with" when there are other options available?
We like the LDP6810SS's Heavy cycle, which boasts some real cleaning power. Its Steam mode really helped with some of our tougher stains during testing. The LDP6810SS is also decent at drying dishes, and the Extra Dry feature is a boon for plastics. Cleaning performance significantly suffers outside of this setup: the Normal and Turbo cycles struggled to scour away several stains without the support of steam.
On the usability side, we also didn't like how easily the foldable tines fell down when the rack was jostled. Again, it's something you can learn to live with, but there's plenty of other options out there that don't have this issue.
All in all, if you find yourself in possession of a LG LDP6810SS, and you use our recommended setup, you'll have a fine dishwasher with some quirks. However, there's very little about the LDP6810SS that allows us to actively recommend it.
If you want a great dishwasher in this price range, we recommend checking out the Samsung DW80R9950UT, which costs more, but offers most of the same features and a much higher quality clean. For those in need a good dishwasher at an even better price, look no further than the Beko DUT25401X, which is the best value dishwasher currently available.
The product experts at Reviewed have all your shopping needs covered. Follow Reviewed on Facebook, Twitter, Instagram, TikTok, or Flipboard for the latest deals, product reviews, and more.
Prices were accurate at the time this article was published but may change over time.