— Recommendations are independently chosen by Reviewed's editors. Purchases you make through our links may earn us a commission.
If you hand wash your dishes, the most satisfying part is seeing every plate, utensil, and glass drying because it means you've finished the job.
But whether you love or hate this chore, have a dishwasher or not (remember, not all your dishes are dishwasher safe!), you need a good dish rack that can dry your dishes and won't leave puddles of water all over your countertop. After all, you will likely use it every day. And if you have limited drying space on your counters, having one that can sit in the sink or easily collapse for easy storage may keep you from wringing your dishpan hands.
We set out to find the top dish rack for your kitchen—big or small—and over several weeks tested 10 of the most popular racks on the market to determine the top performers. Whether you have lots of counter space, none to spare, or just prefer a clutter-free space, our favorites, such as the Prepworks by Progressive Collapsible (available at Amazon) and the PremiumRacks Professional (available at Amazon) are exactly what you need.
These are the best dish drying racks we tested ranked, in order:
PremiumRacks Professional
Prepworks by Progressive Collapsible Dish Rack with Drain Board
Joseph Joseph Extend Dish Drying Rack
OXO Good Grips Convertible Foldaway
Shanik Expandable Draining Dish Rack
KitchenAid Full-size
Simplehuman Dish Rack
Polder 4-Piece Advantage
Neat-O Deluxe Chrome-plated Steel Small Dish Drainer
Rubbermaid Antimicrobial Sink Dish Rack Drainer Set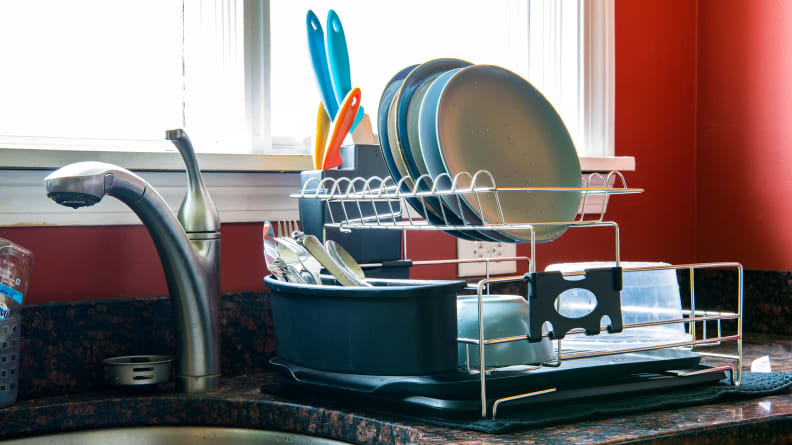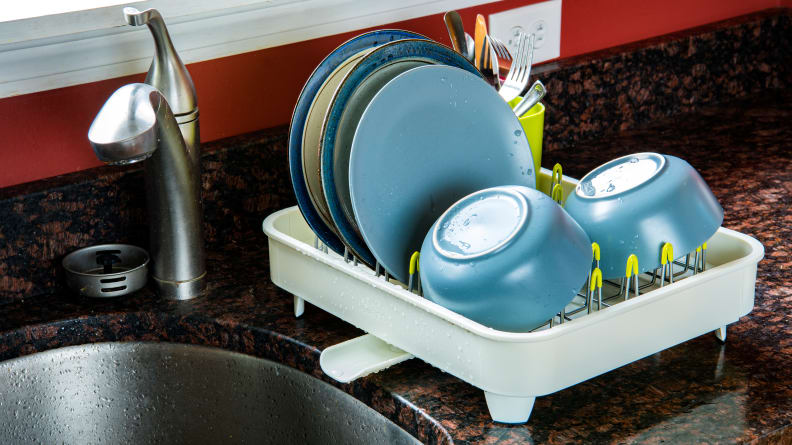 How We Tested Dish Racks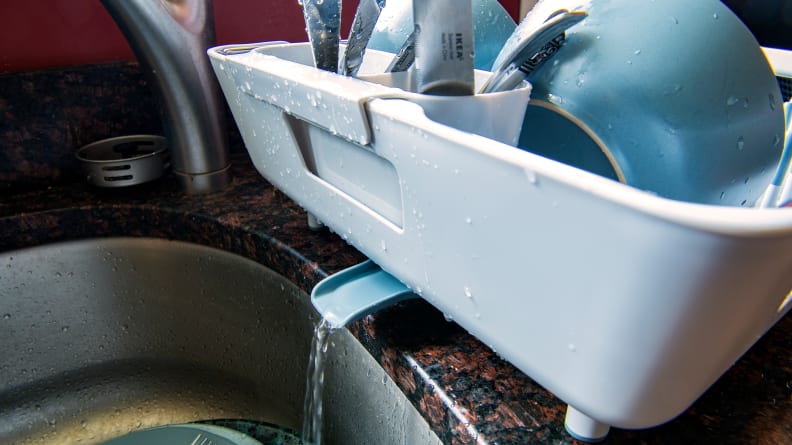 The Testers
I'm Tanya Ballard Brown, a seasoned editor and project manager, and 2019 fellow with the Nieman Foundation for Journalism. After Kori Perten, a former Reviewed editor, first tested dish drying racks two years ago, I was tasked with updating this guide and reviewing new products.
I have a small kitchen and even with a remodel I wasn't able to squeeze in a dishwasher—oh how I tried!— so washing dishes now falls to me and my hands. With limited counter space and a general need for my counters to be clear of clutter and kitchen appliances at all times, I really value a dish rack that is compact or that can rest in the sink.
My kitchen is also open to the rest of the house so being able to put it away when guests are visiting helps soothe the neat freak in me.
Kori is a cooking enthusiast, who spends a lot of time preparing food, which means a lot of time is spent washing dishes, too. After trying to stack heavy-duty cookware in a small, flimsy wire rectangle, and shattering her roommate's beloved bowl when it toppled from a particularly precarious rack, she was eager to find better options. Thankfully, after the first round of testing, she did.
The Tests
Since we first sought to find our top picks in April 2018, we've tested more than a dozen products. Each one was evaluated over the course of several weeks, noting how securely they held all kinds of kitchen tools, from plates to colanders to glasses and coffee mugs. We observed whether dishes actually air-dried on each rack and checked to see if water pooled on the counter or in the bottom of the rack. We also scored based on the efficient use of space, special features, and customizability.
During testing, we used each rack to dry two place settings, then again to dry the dishes needed for a four-person dinner party. We also dried a bunch of oddly-shaped objects on each rack, such as a water bottle, a small cookie sheet, a dutch oven, and baking dishes. After two hours, we noted whether objects were dry.
These tests helped compare and contrast the different dish racks and rate them on similar criteria: Do the dishes fit? How many dishes will fit in the rack? Is it easy to put together? Are all the dishes dry after a reasonable amount of time?
After several weeks and many, many wet dishes, we are able to make confident recommendations based on data and personal observation.
What To Consider When Buying a Dish Rack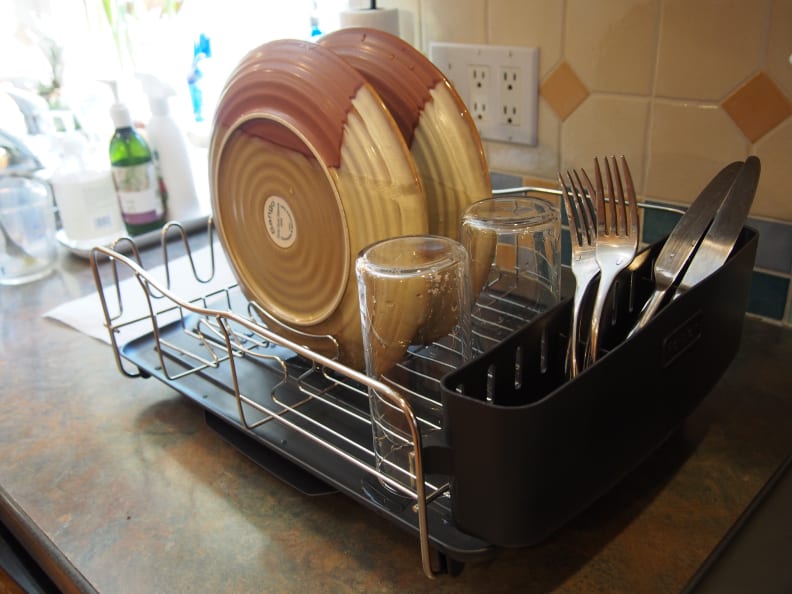 The primary goal of these products at a bare minimum, is to dry dishes, so it should perform that function. But there are other things to consider when shopping. These products don't tend to be cost-prohibitive but don't assume that the more expensive it is, the better the item, as it may not function in the way you need it to.
Maybe you need a rack that can accommodate wine glasses or that can sit inside or across the sink rather than beside it on the counter. You want to think about the dimensions—a smaller dish rack may take up less space but that also could mean it may not be large enough for your volume of dishes.
Look hard at any accessories that come with the rack. Are they things you would use? You don't want to pay for extras you don't need.
Do you want something that is ready to use out of the box or are you willing to spend a little time assembling?
Also, material matters. You want something that's easy to clean. Rubber or plastic may stain or require occasional washing, a flimsy rack may break, or steel could rust (unless it's rust-proof).
If you have small children or pets, you don't want lots of pieces that might fall off and end up in their mouths, and even if you don't have small children or pets, you don't want pieces falling off.
Does it drain via a spout or is it able to tilt or be raised so that water isn't pooling in the drain board? Do you want something that can be hidden away when not used? Do you want a specific color or style to match your kitchen decor?
Ideally working through these questions will help you find the best fit for you and your plates.
---
Other Dish Racks We Tested
More Articles You Might Enjoy